.22 LR Ballistics
Ballistics and Drop for the .22 LR
Cartridge Type: Rifle
Height: 0.613"
Width: 0.278"
Average FPS: 1061
Average Energy: 99
Average Gr: 40
Recoil: 0.19
Power Rank: 0.42 of 20
Just mention the 22 and memories of childhood flood the mind of most Americans. The .22 LR is what many of us learned to shoot with because of it's lack of recoil, relatively low noise level, price, and availability of both the round and rifle. It's not hard to find a .22 rifle for $100 and you can usually pick up a hundred rounds of this at Wally World for around $6 if you get the cheap stuff.
The .22 Long Rifle was created back in 1800s by J. Stevens Arm & Tool Company and is a rimfire cartridge meaning it has no central replaceable primer, but rather a entire rim that can be struck by the firing pin at any point. These cartridges cannot be reloaded, and for a pennies a round it's not really worth it anyway.
When it comes to home and self defense however this round should not be counted on. Unless the perp is far away, and if that's the case it's illegal to shoot them anyhow, as you are not in any immediate danger.
The .22 LR is often used to hunt or kill small game and varmint like; rabbit, squirrel, crow, and the illusive soda can. We've all heard stories about how someones uncle dropped an Elk with a .22 LR by shooting him in the eye 20 yards away, but the exception is not the rule. It could be considered cruel and inhumane to hunt larger animals like deer, boar, and maybe even coyote with such a small round.
The .22 LR is however still a great small and accurate cartridge that has basically 0 drop up to about the 80 yard mark and flies somewhere around 1000 fps The .22 LR really is the ultimate cartridge for work or play when you look at price, availability, and trajectory.
*Casing image above is an artist rendering and not a real photo of .22 LR Ballistics cartridge. While we have went to great lengths to make sure that it's as accurate as possible this rendering should not be used to generate specs for casings.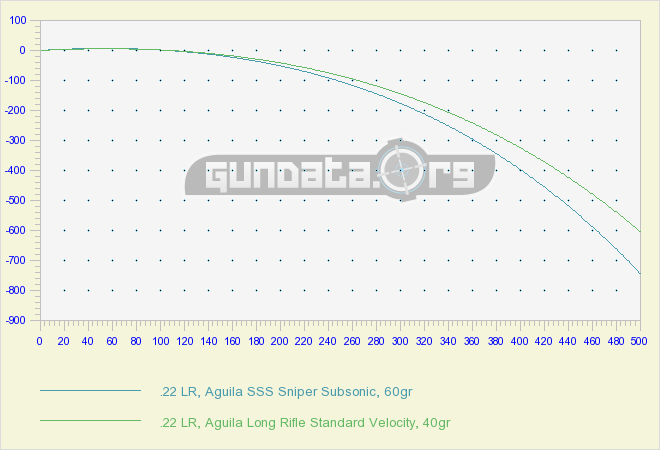 Handpicked .22 LR Ballistics Videos from YouTube
Known Rounds
Other Cartridges with Similar Widths (cartridges not bullets)
.224 Weatherby Magnum, .44-40 Winchester, 5mm Remington Rimfire Magnum, .300 H&H Magnum, 9mm Makarov (9x18mm), 7mm Remington Magnum, .38-40 Winchester, .17 Hornady Magnum Rimfire (HMR), 8mm Remington Magnum, .475 Linebaugh, .338 Winchester Magnum, .300 Weatherby Magnum, .17 Mach 2, .22 Long, 6.17mm (.243) Lazzeroni Spitfire,
Other Cartridges with Similar Length
.357 SIG, .500 Smith & Wesson Special Magnum, .243 Winchester Super Short Magnum (WSSM), .338 Remington Ultra Magnum, .17 Remington, .32 Auto (7.65mm Browning), .25 Auto (ACP), .223 Remington (5.56x45mm NATO), .45 GAP (Glock Automatic Pistol), 6.8mm Remington SPC, .17 Aguila, .454 Casull, .17 Hornady Magnum Rimfire (HMR), .300 Winchester Magnum, .25 Winchester Super Short Magnum (WSSM),
Bullet Database
Power Rank
The PowerRank is an estimation of the cartridge power. The first number is the value of this cartridge, and the last number is the value of the most powerful round in our bullet database.