Bullet Ballistics & Charts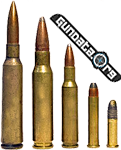 This interactive bullet database is free and containst 173 caliber ballistics, history, stats, and their trajectories charted out in full detail. Speed and Energy are figured out using an average of all the known cartridges. This means that the speed and energy will vary from cartridge manufacturer to manufacturer.
This system is a great way to compare cartridge systems so you can better make an informed purchase. After spending some time with this database you will most likely find the bullet that best meets your needs. When this happens dont leave! Instead search for the bullet on the top left using the search box or browse by rifle, or pistol using the links from the main menu.