6.5mm Remington Magnum Ballistics
Ballistics and Drop for the 6.5mm Remington Magnum
Cartridge Type: Rifle
Height: 2.17"
Width: 0.532"
Average FPS: 3118
Average Energy: 2655
Average Gr: 123
Recoil: 1.72
Power Rank: 3.84 of 20
The 6.5mm Remington Magnum was designed in 1966 by Remington Arms Company. The cartridge is a necked down .350 Remington magnum to make it one of the first short magnum cartridges available on the commercial market. The 6.5mm caliber was popular in European countries during the 1960's, but failed to gain popularity in North America and factory loads stopped being produced.
In 2003 Remington tried to revive the 6.5mm cartridge along with a new rifle M673, but it also failed to gain any traction on the commercial market. The ballistic performance based off one grain type for the 6.5mm Remington Magnum on muzzle velocity is 3,210 ft/s (120 gr), and is currently the only factory load for the 6.5mm Remington Mag available on the market.
Hand loading brass is available in a variety of loads for the 6.5mm. A 129 grain bullet has a muzzle velocity of 2,700 ft/s with 43.6 gr of IMR-4350, and 3,000 ft/s with 49.8 grains of IMR-4350. The round has been used for varmint, small, and medium sized game hunting. The 6.5mm can effectively shoot targets at a distance of 290 yards before noticeable drop-off in wound penetration and trajectory occurs.
*Casing image above is an artist rendering and not a real photo of 6.5mm Remington Magnum Ballistics cartridge. While we have went to great lengths to make sure that it's as accurate as possible this rendering should not be used to generate specs for casings.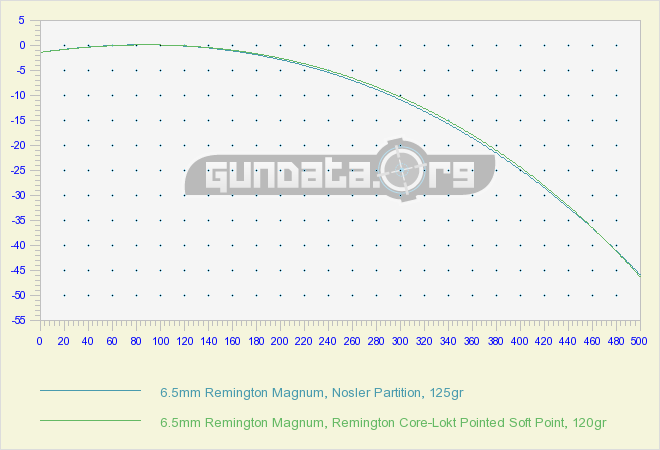 Known Rounds
6.5mm Remington Magnum-Remington Core-Lokt Pointed Soft Point, 6.5mm Remington Magnum-Nosler Partition,
Other Cartridges with Similar Widths (cartridges not bullets)
.460 Weatherby Magnum, 7.82mm (.308) Lazzeroni Patriot, .400 A-Square Dual Purpose Magnum (DPM), .460 Smith & Wesson, .303 British, .356 Winchester, .30-378 Weatherby, .45 Smith & Wesson Schofield, 7mm Dakota, .270 Weatherby Magnum, .50 Action Express, .44 Remington Magnum (Pistol Data), .45 Colt (often called .45 Long Colt), .404 Dakota, .32 Smith & Wesson Long,
Other Cartridges with Similar Length
.500 A-Square, 6.71mm (.264) Lazzeroni Phantom, 9.3x74R, .25-06 Remington, .303 British, .500 Jeffery, .404 Dakota, 6.5x54 MS (6.5 Mannlicher-Schoenauer), .270 Winchester Short Magnum, 6.17mm (.243) Lazzeroni Spitfire, 7x64mm Brenneke, .300 Weatherby Magnum, .30-30 Winchester, 7mm Weatherby Magnum, 6.5x57 Mauser,
Bullet Database
Power Rank
The PowerRank is an estimation of the cartridge power. The first number is the value of this cartridge, and the last number is the value of the most powerful round in our bullet database.