.284 Winchester Ballistics
Ballistics and Drop for the .284 Winchester
Cartridge Type: Rifle
Height: 2.17"
Width: 0.473"
Average FPS: 2880
Average Energy: 2762
Average Gr: 150
Recoil: 1.93
Power Rank: 4.32 of 20
The .284 Winchester was designed in 1963 for the short action Model 88 lever action rifle and Model 100 semi-automatic rifle. The round failed to gain any traction with hunters at the start, but after years of struggling on the market wildcat shooters began to use the design for competitive long-range shooting. The ballistic performances based off four grain types for velocity are 3,175 ft/s (100 gr), 2,968 ft/s (120 gr), 2,845 ft/s (139 gr), and 2,860 ft/s (150 gr).
Even though the .284 Winchester isnt widely popular it is considered an effective round against medium sized game such as deer. The Mauser M98 has been noted as one of the better choices to use .284 Winchester Rounds for hunting due to its ability to work in rugged conditions. Competitive long range shooting also uses the .284 Winchester due to the accuracy it maintains even in environments that have upwards of 25 mph winds. Hand loaded brass (175-180 grain) can shoot accurately up to 1000 yards distance with 32-36 inch barrels used for competitions.
Factory loaded ammunition can be purchased through Olin for the .284 Winchester and has fast kill rates on medium sized game upwards to 225 yards before a noticeable wound penetration drop-off occurs. Hand loading brass can achieve slightly faster speeds than factory loads including approximately 3,000 ft/s (140 gr) and 2,900 ft/s (150 gr).
*Casing image above is an artist rendering and not a real photo of .284 Winchester Ballistics cartridge. While we have went to great lengths to make sure that it's as accurate as possible this rendering should not be used to generate specs for casings.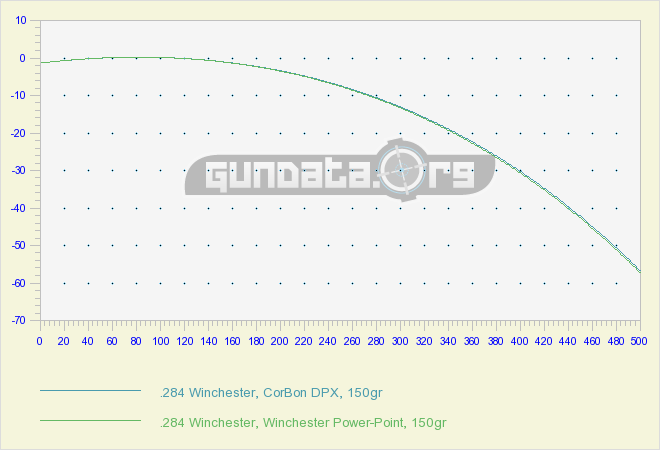 Known Rounds
.284 Winchester-Winchester Power-Point, .284 Winchester-CorBon DPX,
Other Cartridges with Similar Widths (cartridges not bullets)
.44 Smith & Wesson Special, 10mm Auto, 6.5x54 MS (6.5 Mannlicher-Schoenauer), .475 Linebaugh, .223 Winchester Super Short Magnum (WSSM), .38 Short Colt, .25-06 Remington, .270 Winchester, 7x64mm Brenneke, .44 Remington Magnum (Rifle Data), .505 Rimless Magnum (Gibbs), .284 Winchester, .44 Remington Magnum (Pistol Data), 7mm Remington Short Action Ultra Magnum, .380 Auto (9mm Browning Short),
Other Cartridges with Similar Length
7mm Remington Magnum, 8x57mm Mauser JS, 8.59mm (.338) Lazzeroni Titan, .303 British, .30-06 Springfield, .338 Lapua Magnum, .500 Jeffery, 8mm Remington Magnum, .458 Lott, 6.5x57 Mauser, 7mm Winchester Short Magnum (WSM), .338 Remington Ultra Magnum, .500 A-Square, .300 Remington Short Action Ultra Magnum, .270 Weatherby Magnum,
Bullet Database
Power Rank
The PowerRank is an estimation of the cartridge power. The first number is the value of this cartridge, and the last number is the value of the most powerful round in our bullet database.