.380 ACPs Stopping Power (Funny)
Article Posted: July 31, 2012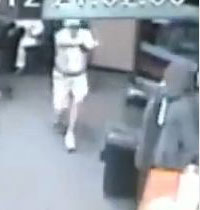 Now the title may be a bit misleading as this is not the physical stopping power of the .380 but rather the ability of the handgun to change the tide that we are speaking to. These fools are literally falling all over themselves in an attempt to flee from Samuel Williams a 71 year old man.
This video shows proof of the .380 A.C.P.'s stopping power in action. There is constantly a debate over the 380's ability to deal with "bad guys". We just wanted to share this video for those of you that haven't seen it yet, if nothing else it will give you a good laugh.
The gun is probably a Ruger LCP although it's impossible to tell from the grainy video, the Ruger LCP is the most popular handgun ever. Please note it's not the round that stops the would be robbers but rather the presence of a gun, that had it been a larger caliber would most likely been to large to easily conceal carry. Any gun is better than no gun.
Williams age 71 legally has a conceal carry license and in the face of the Colorado shootings this is an excellent example of the proper usage of our 2nd Amendment in action.
The gun is truly the equalizer. 2 large 19 year olds armed with a gun and baseball bat vs a little old 71 year old man and his .380, and the little old man wins
It's moments like this that make us proud to live in a country with gun rights. Thanks Samuel Williams, you are a hero... and a good shot.
What if?
Here are a few things that some of you are obviously thinking about.
What if the robbers were on crack, coke, or something else? Would the .380 have stopped them?
What if the 71 year old man had felt pressure to purchase a larger 9mm, 40, or 45? Would he have carried that or would it be to much of a gun to conceal?
What if the man had not been there?
What if we had no 2nd Amendment?
Related Articles
Please like, share, favorite, bookmark, and comment. Thank You.