7x64mm Brenneke Ballistics
Ballistics and Drop for the 7x64mm Brenneke
Cartridge Type: Rifle
Height: 2.51"
Width: 0.47"
Average FPS: 2818
Average Energy: 2662
Average Gr: 151
Recoil: 1.85
Power Rank: 4.26 of 20
The 7x64mm (unofficially known as the 7x64 Brenneke) was designed in 1917 by Wilhelm Brenneke (1865-1951) of Germany. The parent case is the 8x64mm S with a narrowed neck to fit a .285 inch bullet on a .313 inch neck. The case is a rimless, bottleneck with a 1:8.66 twist and a large rifle primer. The case length is 2.52 inches with overall length of 3.307 inches and can fit a maximum load of 69 grains.
The ballistic performances based off three grain types for muzzle velocity on the 7x64 Brenneke are 3,000 ft/s (123 gr SP), 2,900 ft/s (154 gr SP), and 2,700 ft/s (174 gr SP.) The 7x64mm was a commercial success after it went onto the public market in 1917 due to its ability to achieve up to 12-percent more muzzle velocity over the 7x57mm with a flatter trajectory and better long range shooting performance.
Hand loading brass is available in a variety of loads for the 7x64 Brenneke. Hornady reloading data states a 154 grain bullet has 2,500 ft/s muzzle velocity with 46.9 grains of IMR-4350 powder, and 2,900 ft/s with 52.9 grains of IMR-4350 powder. The 7x64 has a typical drop-off in trajectory and wound performance at a distance of approximately 235 yards before noticeable down scaling occurs.
*Casing image above is an artist rendering and not a real photo of 7x64mm Brenneke Ballistics cartridge. While we have went to great lengths to make sure that it's as accurate as possible this rendering should not be used to generate specs for casings.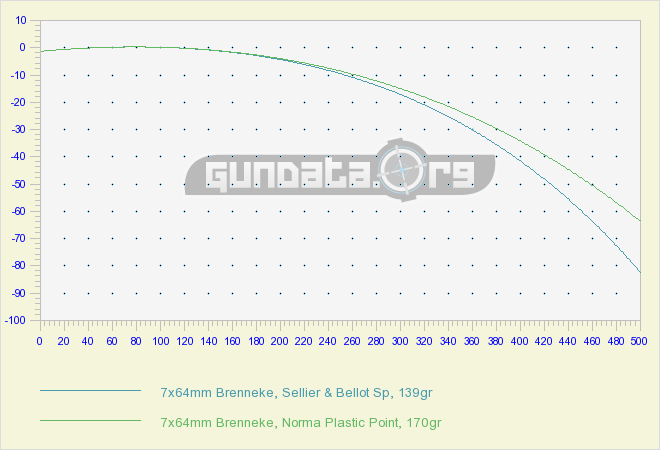 Handpicked 7x64mm Brenneke Ballistics Videos from YouTube
Known Rounds
7x64mm Brenneke-Sellier & Bellot Sp, 7x64mm Brenneke-Norma Oryx, 7x64mm Brenneke-Norma Nosler AccuBond, 7x64mm Brenneke-Norma Plastic Point,
Other Cartridges with Similar Widths (cartridges not bullets)
.45 Auto (.45 ACP), 9mm Largo (9x23mm)*, .222 Remington Magnum, 8.59mm (.338) Lazzeroni Titan, 6.5x54 MS (6.5 Mannlicher-Schoenauer), .44 Colt, .350 Remington Magnum, 7mm Dakota, .458 Winchester Magnum, .30-378 Weatherby, .500 Smith & Wesson Special, 9x23mm Winchester, .405 Winchester, .500 Smith & Wesson Special Magnum, .17 Mach 2,
Other Cartridges with Similar Length
7mm Weatherby Magnum, .500 A-Square, 7mm Remington Magnum, 8.59mm (.338) Lazzeroni Titan, .375 Dakota, 7mm Remington Short Action Ultra Magnum, 10.57mm (.416) Lazzeroni Meteor, .30-378 Weatherby, .404 Dakota, 8x57mm Mauser JS, .300 Winchester Short Magnum, .338 A Square, .577 Tyrannosaur, .240 Weatherby Magnum, .270 Winchester,
Bullet Database
Power Rank
The PowerRank is an estimation of the cartridge power. The first number is the value of this cartridge, and the last number is the value of the most powerful round in our bullet database.