.243 Winchester Super Short Magnum Ballistics
History, Details, Ballistics, and Drop for the .243 Winchester Super Short Magnum (WSSM)
Cartridge Type: Rifle
Height: 1.67"
Width: 0.544"
Average FPS: 3198
Average Energy: 2228
Average Gr: 86
Recoil: 1.37
Power Rank: 2.55 of 20 [?]
The .243 Winchester Super Short Magnum (.243 WSSM) was designed in 2003 by Browning and Winchester. It is based off the .300 Winchester Short Magnum cartridge and has a 1:10 twist with a large rifle primer. The ballistic performance of the .243 WSSM based off 5 grain types are 4,068 ft/s (58 gr), 3,707 ft/s (70 gr), 3,545 ft/s (80 gr), 3,280 ft/s (90 gr), 3,136 ft/s (100 gr). The cartridge is mainly used for varmint hunting, in addition to medium sized game such as deer.
Due to financial problems, Winchester shut down the rifle production plant for the .243 WSSM in 2006, but Browning picked up the rights for most of the Winchester rifle products. The .243 WSSM has a slightly higher velocity than the .243 cartridge that provides for a slightly bigger recoil on rifles. The rifles that were designed for the bullet were scaled down in weight that allowed for youths to be able to use as their first shooting rifle. The butt stock was not reduced to allow for a better length of pull though, so modifications by owners were needed to reduce the LOP on a shortened butt stock for youth shooters.
Olin owns the Winchester brand name for case manufacturing and produces all commercial market cartridges for the .243 WSSM. Hand loading brass can also be purchased through and Olin dealer. The .243 WSSM was made lighter and was used by but not originally designed for youth shooters. After Winchester shut down production in 2006 the .243 has virtually become obsolete on the market.
*Casing image above is an artist rendering and not a real photo of .243 Winchester Super Short Magnum (WSSM) Ballistics cartridge. While we have went to great lengths to make sure that it's as accurate as possible this rendering should not be used to generate specs for casings.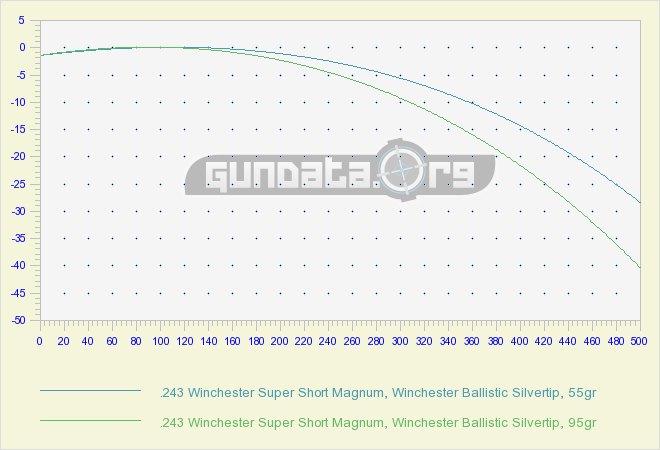 Known Rounds
Other Cartridges with Similar Widths (cartridges not bullets)
.30-378 Weatherby, 7mm Weatherby Magnum, .375 Remington Ultra Magnum, .257 Weatherby Magnum, 6.5x54 MS (6.5 Mannlicher-Schoenauer), .340 Weatherby Magnum, .300 Remington Short Action Ultra Magnum, .495 A-Square, .375 Winchester, .44 Remington Magnum (Rifle Data), .444 Marlin, 7mm Remington Magnum, .454 Casull, .44 Smith & Wesson Special, 10.57mm (.416) Lazzeroni Meteor,
Other Cartridges with Similar Length
.45 Smith & Wesson Schofield, .17 Remington, .475 Linebaugh, .17 Hornady Magnum Rimfire (HMR), .32 H&R Magnum, .30 M1 Carbine, .22 Winchester Magnum Rimfire (WMR), .44 Remington Magnum (Rifle Data), .25 Winchester Super Short Magnum (WSSM), .357 Magnum (Rifle Data), .22 Hornet, .225 Winchester, .204 Ruger, .218 Bee, .222 Remington Magnum,
Bullet Database
Power Rank
The PowerRank is an estimation of the cartridge power. The first number is the value of this cartridge, and the last number is the value of the most powerful round in our bullet database.