5 Best Home Defense Shotguns
Article Posted: July 8, 2012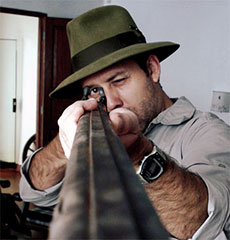 Shotguns have the ability to make excellent home defense weapons due to their short range burst capability. Pump and auto loading shotguns with a barrel length of 18 to 22 inches is the optimum choice for home defense. They provide a lethal spread on targets up to 30 meters, which is more than enough distance to take down a home invader. After deciding on which shotgun suits your needs, you can then practice with buckshot or slugs to see which you prefer to use. Most defense shotguns have the option to add tactical upgrades such as laser sights or light mounts to help enhance their features.
With a little bit of research and some common sense we've compiled a list of the best 5 home defense shotguns as of 2012. These choices are listed below in alphabetical order. While not everyone will agree 100% on each recommendation; the data provided will at the least give you a great starting point.
Interstate Arms Black GA Defender

Interstate Arms has been offering high-quality home defense and police weapons for 37 years. They have a strong track record of offering great weapons at reasonable prices. Interstate Arms Black GA Defender is a 12 gauge black matte finish shotgun with an 18.5 inch barrel. It comes with Ghost Ring sights, a 5+1 shell chamber, and weighs 7 pounds.
Suggested Retail Price: $209.00
Mossberg 500 Special Purpose Series

The Mossberg 500® & 590® Special Purpose Series features 12 gauge 18.5 to 20 Inch barrels. These come with available pistol grip options and thumb operated safety. These pump action shotguns include anti-jam elevators, and shell extraction for easy feeding. They have the ability to hold 6-8-9 shell casings of 2 3/4 inches, and include the proven Mossberg adjustable Ghost Ring Sights.
Price Range: $350.00 - $820.00
Remington MODEL 870 EXPRESS TACTICAL WITH BLACKHAWK! SPEC OPS II

The Remington Model 870™ Express® Tactical with BLACKHAWK! Spec Ops II is a seven-pound pump action 12 gauge shotgun that employs an 18-inch barrel. It has a 7 point length of position stock, cross bolt safety behind the trigger, and enhanced pistol grip. It comes with an adjustable sling-mount and recoil reduction system.
Suggested Retail Price: $638.00
Saiga 12 Auto Shotgun

For those who desire to break away from traditional pump and auto-loaders; the Saiga 12 is a 41-inch (19" Barrel) AK-47 model that has been adapted to act as a rifle to shotgun hybrid by Russian arms maker IZHMASH. The semi-automatic Saiga comes with a 5 round magazine that can hold 2 1/4" along with 3" shells and be upgraded to 8-10-12 round magazines. Originally designed for predator hunting, this model has the ability to serve as a home defense shotgun due to its gas operated system that reduces the risk of jams while providing magazines with fast reload time.
Suggested Retail Price: $580.00
Weatherby PA-459™ TR (Threat Response)

The Weatherby PA-459™ TR is an easy to operate home defense shotgun at a reasonable price to match. It comes with an 18.5 inch barrel, pistol grip butt stock, and adjustable ghost ring sight. It has an extended enlarged slide release located in front of the trigger guard and a 13.5 shoulder length of pull for a swift sight acquisition on targets.
Suggested Retail Price: $499.00
Caution:
If you're buying a shotgun for home defense use remember to read the instructions, practice and learn the ins-and-outs of the weapon, and keep it cleaned on a regular basis. Check the barrel markings and always make sure to use the correct shell length before loading.
Contributing Author: Jason Brumett
Side Note from GunData.org: Some home defense specialist suggest the use non slug or buck shot ammo if you live with kids, as these have massive over-penetration going through dry wall like paper and striking whatever lies in the next room be it person or not. Please consider this when purchasing a home defense round.
You may also like these...
Thanks to elbragon for use of the photo.
Related Articles
Please like, share, favorite, bookmark, and comment. Thank You.