5 Great Gun Safes
Article Posted: December 12, 2014
If you're a gun owner and you don't own a gun safe, you're taking a serious risk. Think of a gun safe as an insurance policy, it not only protects your investment in your guns, but it also protects you against liability you might incur should your firearms fall into the wrong hands. Today's gun safes combine high-technology with good old-fashioned solid steel. Whether you need a small unit for a single handgun, or a larger safe for a collection of long guns, here are some of the best gun safe picks for the new year.
Stack-On SS-22-MG-C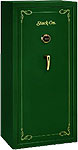 This is a large safe that touts the ability to hold up to 22 rifles and shotguns, if you get creative about putting them in there. But there's plenty of room, with four accessory shelves on the side. Heavy, drill resistant steel construction means this safe weighs in at over 250 pounds. Features a combination lock with five locking points, steel dead bolts and hidden hinges. DOJ and CA Penal Code approved.
Pros: Loots of space, hidden hinges, five locking points
Cons: Heavy 250lbs empty
Large enough to accommodate 36 guns, this safe features superior fire resistance, and is able to protect its contents in heat up to 1,400 degrees for 30 minutes. All-around heavy steel construction, combo lock with three deadbolts and five locking points, carpeted interior and powder-coated finish.
Pros: X-tra Large Capacity
Cons: Heavy
Liberty RV20 Revere
Liberty has been a favorite with gun owners for years. The RV20 features a two-piece, 12v gauge steel body, a case hardened steel lock plate, seven steel locking bolts and 30 minutes fire protection. Space for up to 22 guns.
Pros: Hardened Steel Lock, Reliable Company
Cons: Heavy
SentrySafe Quick Access QAP1E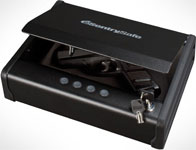 When you need your gun in a hurry this is a good place for it to be. A gas compressed strut opens the case in a flash, and does it quietly. With some practice punching in the access code, you can have your weapon in your hand in five seconds. Solid steel construction and a solid lock means it can't be forced open quickly. Also has key access as a backup if you forget the code.
Pros: Light, Quick Access, Gas Compressed Piston/Strut
Cons: Easily Stolen
GunVault GV2000C-DLX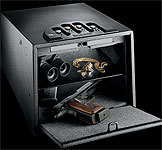 This small safe offers both storage space and quick access. Keypad sits in a recessed hand print to allow you to punch in a code in the dark. Large enough for two handguns plus ammo and some accessories. Includes a wall plug-in so you don't have to rely on batteries alone.
Pros: Small
Cons: Easily Stolen
You may also like
Related Articles
Please like, share, favorite, bookmark, and comment. Thank You.