.257 Roberts Ballistics
Ballistics and Drop for the .257 Roberts
Cartridge Type: Rifle
Height: 2.233"
Width: 0.473"
Average FPS: 2790
Average Energy: 2039
Average Gr: 118
Recoil: 1.47
Power Rank: 3.29 of 20
The .257 Roberts was designed in the 1920s when wildcatter Ned Roberts started to do experiments on the .257 caliber cartridges. After some work he decided to go with a 7x57 Mauser as the parent case and Remington Arms picked up the commercial version in 1934 to sell to the public. The ballistic performance based off four grain types for velocity are 3,563 ft/s (75 gr), 3,368 ft/s (90 gr), 3,108 ft/s (100 gr), and 2,777 ft/s (115 gr).
The .257 Roberts failed to gain any traction after the initial introduction of the 117 grain round into the market because the .250 Savage was considered to have better velocity. After the introduction of the .243 Winchester the .257 Roberts moved even further back on the market. The factory load 100 grain bullets can produce reasonably fast kills on medium sized game on targets up to 150 yards, but is better suited for medium sized game at 100 yards. The advantage the .257 Roberts gives to hunters is a reduced recoil compared to other rounds for people who have sensitive shoulders that cannot take the higher recoil from other cartridges.
The .257 Roberts factory loads are available on the commercial market inside the U.S. by manufacturers such as Olin, Hornady, and Federal. Hand loading brass has been more effective increasing velocity on rounds and can be purchased from Hornady, Sierra, and Federal. The 120 grain Speer and 100 grain Nosler Partition have been two of the more successful hand loading rounds when it comes to acceptable wound penetration on targets.
*Casing image above is an artist rendering and not a real photo of .257 Roberts Ballistics cartridge. While we have went to great lengths to make sure that it's as accurate as possible this rendering should not be used to generate specs for casings.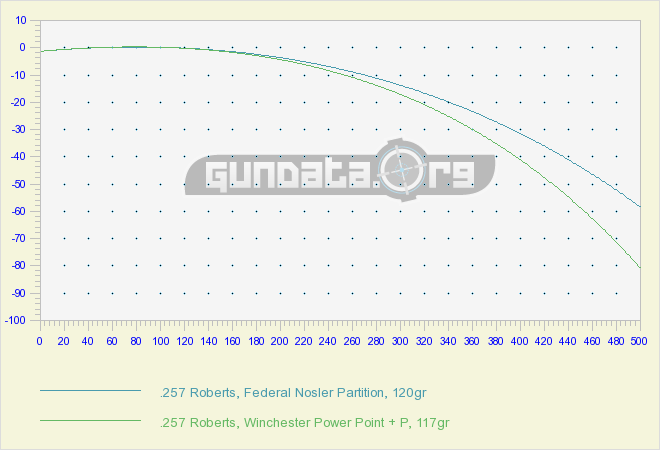 Known Rounds
.257 Roberts-Remington Soft Point Core-Lokt, .257 Roberts-Hornady BTSP Interlock, .257 Roberts-Federal Nosler Partition, .257 Roberts-Hornady SST LM Interlock, .257 Roberts-Winchester Power Point + P,
Other Cartridges with Similar Widths (cartridges not bullets)
.260 Remington, .357 Magnum (Rifle Data), .375 Dakota, .380 Auto (9mm Browning Short), .44 Smith & Wesson Special, .338 Remington Ultra Magnum, .308 Winchester (7.62mm NATO), .40 Smith & Wesson, .32-20 Winchester, .330 Dakota, .41 Remington Magnum, .405 Winchester, .270 Winchester, .38 Super Auto Colt, .25-20 Winchester,
Other Cartridges with Similar Length
6mm Remington, .220 Swift, 8x57mm Mauser JS, 6.5x57 Mauser, .444 Marlin, 7x57mm Mauser, .257 Roberts, .303 British,
Bullet Database
Power Rank
The PowerRank is an estimation of the cartridge power. The first number is the value of this cartridge, and the last number is the value of the most powerful round in our bullet database.