.300 H&H Magnum Ballistics
Ballistics and Drop for the .300 H&H Magnum
Cartridge Type: Rifle
Height: 2.85"
Width: 0.532"
Average FPS: 2880
Average Energy: 3314
Average Gr: 180
Recoil: 2.34
Power Rank: 5.18 of 20
The .300 Holland & Holland Magnum was designed by U.K. manufacturer H&H in 1925. The .300 H&H Magnum is based off the .375 H&H Magnum. Holland & Holland kept the patent on the .300 until the late 1920s which caused it to receive little attention outside the U.K. In 1935, a decade after H&H had produced the .300 H&H it received its first real attention when American long range shooter Ben Comfort used a Griffin & Howe .300 H&H Magnum to win the 1000 yard Wimbledon Cup.
The ballistic performances for the .300 H&H Magnum for velocity based off five grain types are 3,362 ft/ s (150 gr), 3,213 (165 gr), 3,077 ft/s (180 gr), 2,913 ft/s (200 gr), 2,743 (220 gr). The cartridge has been known for its use as an effective long range shooting cartridge for hunting in North America, African plains hunting, and competitive shooting. The 165-180 grain rounds can be used on any medium sized game with reliable deep penetrating wounds on target. The larger 200-220 grain rounds can be used on any size game up to 700 pounds with well-placed head or neck shots to effectively take down targets.
Hornady and Federal offer factory loaded ammunition that can be used on light to heavy game weighing between 180 to 700 pounds. Hand loading brass for the .300 H&H Magnum can be used to produce slower rounds to help reduce barrel wear to increase the longevity of the rifle. Hand loaded 150 grain can have 3,250 ft/s and 180 grain with a velocity up to 3,000 ft/s.
*Casing image above is an artist rendering and not a real photo of .300 H&H Magnum Ballistics cartridge. While we have went to great lengths to make sure that it's as accurate as possible this rendering should not be used to generate specs for casings.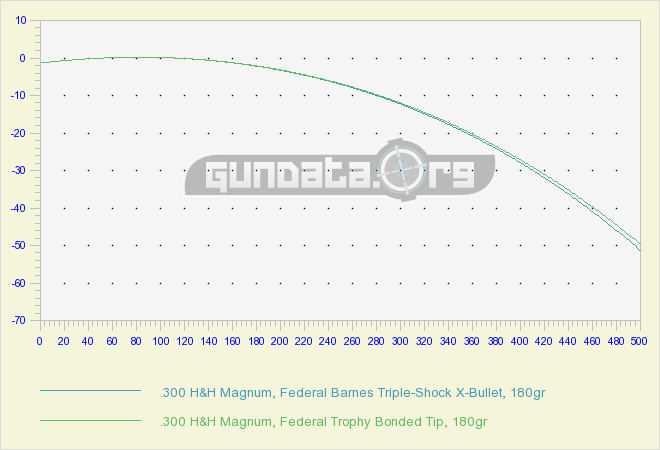 Known Rounds
.300 H&H Magnum-Federal Barnes Triple-Shock X-Bullet, .300 H&H Magnum-Federal Trophy Bonded Tip, .300 H&H Magnum-Federal Nosler Partition,
Other Cartridges with Similar Widths (cartridges not bullets)
.458 Winchester Magnum, .375 Remington Ultra Magnum, .44-40 Winchester, .500 A-Square, .458 Lott, .460 Smith & Wesson, .338 Winchester Magnum, .444 Marlin, 7.82mm (.308) Lazzeroni Warbird, .375 Dakota, .25 Winchester Super Short Magnum (WSSM), .45 Smith & Wesson Schofield, 6.5x54 MS (6.5 Mannlicher-Schoenauer), .375 Ruger, .416 Dakota,
Other Cartridges with Similar Length
.340 Weatherby Magnum, .308 Winchester (7.62mm NATO), .264 Winchester Magnum, 7mm STW (Shooting Times Westerner), 7mm Dakota, .25-06 Remington, .416 Remington Magnum, .300 Remington Short Action Ultra Magnum, 7.21mm (.284) Lazzeroni Firebird, .300 Dakota, 7.82mm (.308) Lazzeroni Patriot, .416 Weatherby Magnum, .404 Dakota, 10.57mm (.416) Lazzeroni Meteor, 7.82mm (.308) Lazzeroni Warbird,
Bullet Database
Power Rank
The PowerRank is an estimation of the cartridge power. The first number is the value of this cartridge, and the last number is the value of the most powerful round in our bullet database.