Hudson H9 | New American Made 9mm
Article Posted: March 29, 2017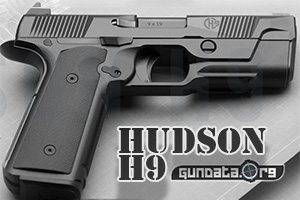 The Hudson H9 is a pistol so revolutionary it has 7 patents, this gun is a game changer in so many ways.
The Hudson H9 is an American-made pistol with an attractive look and design. Hudson made this gun with technological advancement in mind, which is why the company currently has 7 patents pending on this pistol.
What Hudson focuses on with the H9 is precision. This is why you'll fight a straight-pull trigger design based on the 1911. Hudson also maintains that precision focus with a lower bore axis and impressive sights. Everything about this gun is designed to keep repeated shots on target, making the Hudson H9 perhaps one of the most definitive precision pistols in a long time. Don't be surprised to see this one popping up at shooting competitions in short order.
Among the patents pending on this pistol are its striker and sear design. Unlike many other pistols of somewhat similar design, the Hudson H9 lacks a hammer spring while incorporating a higher grip. This provides a more control while reducing recoil, which, again, adds to the overall precision for the pistol.
The low bore axis (high grip purchase) not only looks great on the H9, but it also works well with the striker-fired design to actually reduce torque at the wrist. Of course, we may sound like a broken record a bit here, but you can guess what all of this does for the weapon: increase precision.
Given the above description, you might start thinking that the Hudson H9 is a bit of a singularly-focused pistol. Precision isn't everything, however, and Hudson ensured that the weapon emphasizes more than just those features. The other major and highly desirable aspect to the H9 is its modularity.
Changeable features on the H9 include safeties for lefties, righties or ambidextrous users, interchangeable grips, and an accessory rail that supports a large number of aftermarket lights and lasers.
As far as specs go, you'll probably most note just how light this gun is unloaded. It's 34 ounces (2.12 lbs) in hand, which is which is 5 ounces lighter than your classic 1911. Considering Hudson wants 1911 fans to feel comfortable with this weapon, the weight similarity might be very appealing. Its slight weight difference is a result of several factors, including a shorter length (7.625 inches overall, vs. 8.25 inches for the 1911). Other notable specs include:
Overall Height: 5.225in
Overall Width: 1.24in
Barrel Length: 4.28in
Trigger Weight: 4.5-5 lbs
Trigger Travel: .112in
Mag Capacity: 15
Sight Radius: 6.25in
G10 VZ Grips
Trijicon HD Front Sights
G10 Hogue Lower Back Strap
Hudson has only teased this one so far. However, when this gun does drop (hopefully sometime in 2017), it's suggested MSRP is a reasonable $1,147.00. This puts it in a similar price range to some other 1911 successors, like the Kimber TLE/RL II.
Related Articles
Please like, share, favorite, bookmark, and comment. Thank You.