.30-378 Weatherby Ballistics
Ballistics and Drop for the .30-378 Weatherby
Cartridge Type: Rifle
Height: 2.908"
Width: 0.58"
Average FPS: 3382
Average Energy: 4520
Average Gr: 178
Recoil: 2.55
Power Rank: 6.02 of 20
The .30-378 Weatherby Magnum is based off the .378 Weatherby Magnum case that was designed in 1959 for ballistic testing in the U.S. Army to develop better armor for soldiers and vehicles. The .30-378 WM was introduced in 1996 by narrowing the neck of the .378 WM. The ballistic performances of the .30-378 WM based off three grain types for velocity are 3,500 ft/s (165 gr), 3,420 ft/s, (180 gr), and 3,160 ft/s (200 gr).
The .30-378 WM round is a favorite for long distance hunters and long distance shooters due to its ability to travel over 1000 yards and still remain effective. The flat trajectory over such a long distance makes it one of the most popular long range rounds available on the market today. The use of different type of grain depends on the distance game can be shoot effectively. Most hunters prefer to use the .30-378 on any sized medium game at distances no closer than 300 yards. The closer the round gets to 1000 yards the more effective the trajectory and penetration becomes, so most shooters prefer to use it sparingly for long range shots due to the barrel life lasting around 600 hundred rounds before it needs to be replaced. Rounds can travel up to 1400 yards accurately with the .30-378 WM depending on the barrel and type of grain used on the target.
Factory loads for the .30-378 WM start at 130 grain and can be used on medium sized game on distances of 400 yards. Other more powerful grains 165-180 are good on larger game such as Elk at distances of 400-475 yards. Hand loading brass starts at 100-120 grain cases that can use slow burning powder. Larger hand load grain types such as 180 grain can produce slightly faster speeds than factory loads at 3,450 ft/s velocity, and 200 grain 3,200 ft/s velocity depending on the length of the barrel used for shooting.
*Casing image above is an artist rendering and not a real photo of .30-378 Weatherby Ballistics cartridge. While we have went to great lengths to make sure that it's as accurate as possible this rendering should not be used to generate specs for casings.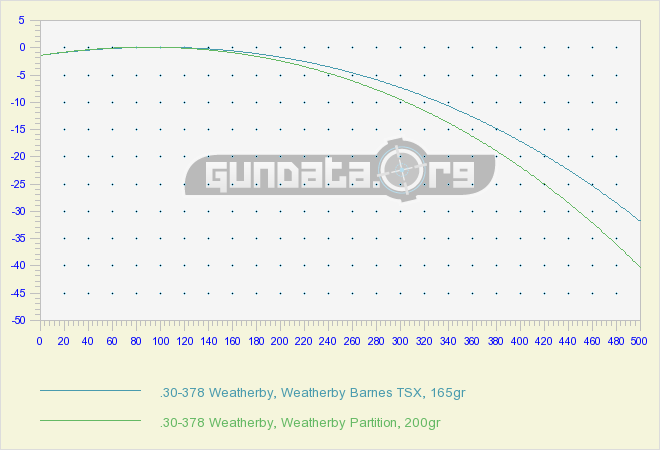 Known Rounds
.30-378 Weatherby-Weatherby BST, .30-378 Weatherby-Weatherby BST, .30-378 Weatherby-Weatherby Partition, .30-378 Weatherby-Weatherby AccuBond, .30-378 Weatherby-Weatherby Barnes TSX, .30-378 Weatherby-Weatherby Barnes TSX,
Other Cartridges with Similar Widths (cartridges not bullets)
.32 Short Colt, 9mm Makarov (9x18mm), .356 Winchester, .221 Remington Fireball, .416 Dakota, .25 Winchester Super Short Magnum (WSSM), .35 Whelen, .22 LR, .400 A-Square Dual Purpose Magnum (DPM), .22-250 Remington, .25-35 Winchester, .350 Remington Magnum, .30 Luger (7.65mm), .357 Magnum, .577 Tyrannosaur,
Other Cartridges with Similar Length
9.3x74R, .30-378 Weatherby, .577 Tyrannosaur, .416 Weatherby Magnum, .378 Weatherby Magnum, .500 A-Square, .416 Rigby, .338-378 Weatherby, .460 Weatherby Magnum, .450 Dakota,
Bullet Database
Power Rank
The PowerRank is an estimation of the cartridge power. The first number is the value of this cartridge, and the last number is the value of the most powerful round in our bullet database.