Kel-Tec KSG 25 | New High Capacity Shotgun
Article Posted: March 28, 2017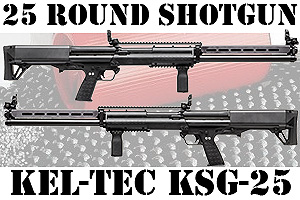 This new 25+1 high capacity shotgun from Kel-Tec the KSG 25 is a game changer. With that many rounds of 2 3/4 shotgun shells you can load it once and go all day.
Kel-Tec continues its specialized focus on skilled professionals and enthusiasts with its KSG-25. While the company admittedly does not have a lot of shotguns, what shotguns it does offer are noteworthy. The addition of the new KS-25 to its shotgun inventory is an exciting one, especially for fans of tactical shotguns as well.
While you can't quite get your hands on one until "3rd Quarter" of 2017, that shouldn't stop you investing some of your time (and saving up a few precious coins) for this one. Let's start with the specs.
The Kel-Tec KSG-25 is making a lot of waves more specifically for its carrying capacity: 40+1 rounds! That's almost hard to believe, but Kel-Tec proudly showed off the capacity at SHOT Show 2017. Plenty of eager participants had a chance to get their hands on this one, and yes, you can unload a full box of 12-gauge ammunition into this one. Of course, that 40+1 is if you're using Aguila Mini Shells. In actuality, the "25" in the name stands for its standard 2.75-inch shell capacity. If you're using 3-inch shells (which KSG actually advertises for the weapon on its web page), you're looking 20+1.

As this is a pump-action shotgun, those Aguila Mini Shells might only be for those strong of arm or looking to build up a bit of arm strength. Outside of the impressive ammo capacity (which, again, the main reason this shotgun is turning so many heads), the KSG-25 boasts the following stats:
Unloaded Weight: 9.25 lbs
Caliber: 12ga, 3in
Overall Length: 38in (3+ feet)
Barrel Length: 30.5in
Trigger Pull: 5lbs
Sights: Magpul MBUS flip-up
Finish: Matte black

This is actually the largest shotgun Kel-Tec will be offering, slightly beating out the KSG-NR in weight by almost 3 lbs and in length by nearly 12 inches. Indeed, the impressive carrying capacity is made possible by that extra length, which makes room for a second, full-sized magazine tube.

You're going to be paying a premium for this one when it finally releases. Kel-Tec lists the suggested MSRP at a sticker-shocking $1,400. That puts it closer in price to some popular semi-automatic shotguns like those from Browning, such as the Maxus Stalker, or a few semi-autos from Benelli. Pump-actions don't usually run this high in price, so you're definitely paying a premium for the extra ammo capacity, whereas that premium usually comes in due to the ease of use for semi-autos.

That price probably won't stop a few pump-action shotgun enthusiasts out there, but don't be surprised if this one ends up on some holiday gift lists (or wedding registries).

Related Articles

Please like, share, favorite, bookmark, and comment. Thank You.