.357 Magnum Ballistics
Ballistics and Drop for the .357 Magnum
Cartridge Type: Handgun
Height: 1.29"
Width: 0.44"
Average FPS: 1294
Average Energy: 528
Average Gr: 142
Recoil: 0.89
Power Rank: 3.68 of 7
The .357 Magnum may be the ultimate handgun cartridge produced within the last 100 years. It was originally designed and released in 1934 by Phil Sharpe, and Elmer Keith. Elmer being a man who liked em big you might say as he later went on to create the .44 Magnum and .41 Magnum cartridges as well.
The .357 Magnum owes much of it's popularity to great promotional techniques, not that the cartridge cannot stand on it's own, but that rather the marketing has sped up it's rise to fame. It's said that Ruger hired experienced hunters and paid them to hunt bear with their .357 Magnum revolvers. They succeed in creating a legend of the round. I myself remember growing up and my Grandfather saying something like.. see that gun right there, you can kill a bear with it.
The 357 magnum has much more energy, and average fps than even the mighty .45 Auto, it also has the added benefit of it's pistols being larger and heavier thus providing more recoil absorption. It's greatest assets are also its weaknesses, with size comes a lower capacity penalty of sorts. 357 is very popular as a revolver round and revolvers usually only hold 6. While some .357 Magnum pistols taking mags are being developed we tend to see them trending more towards 9mm, 40 S&W, and of course the 45 ACP because these rounds are not so tall and can fit better into a magazine and therefor a pistol handle. How much taller/longer is the 357 Magnum? It's 4/10" (almost half an inch) longer than even the mighty 45 ACP. It takes 2 .380 cartridges (empty) stacked on top of each other to reach the same height of .357 Mag. Now that's a cartridge! :)
If you are looking for a really powerful round that's strong enough to take out a bear with the proper placement, or just a gun with a big boom for blowing up target the .357 Magnum may be the round for you. Check out the ballistic drop below, and watch some of the YouTube videos we've selected for this cartridge.
*Casing image above is an artist rendering and not a real photo of .357 Magnum Ballistics cartridge. While we have went to great lengths to make sure that it's as accurate as possible this rendering should not be used to generate specs for casings.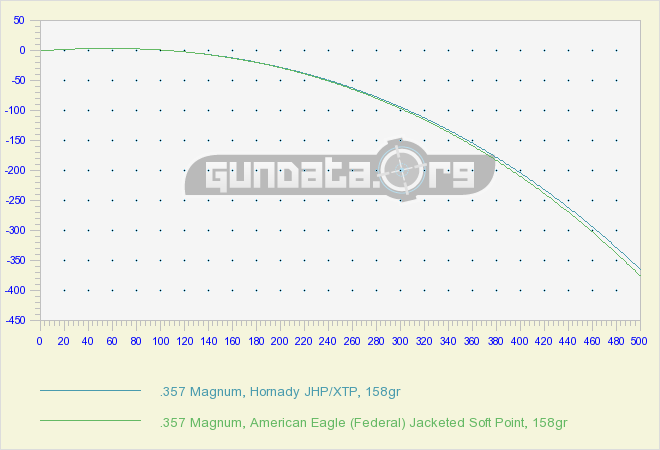 Handpicked .357 Magnum Ballistics Videos from YouTube
Known Rounds
.357 Magnum-PMC EMJ NT, .357 Magnum-American Eagle (Federal) Jacketed Soft Point, .357 Magnum-UMC (Remington) JSP, .357 Magnum-Magtech FMJ-Flat, .357 Magnum-Federal Hydra-Shok JHP, .357 Magnum-Cor-Bon Hard Cast, .357 Magnum-Black Hills Jacketed Hollow Point - Gold Dot, .357 Magnum-Ultramax JHP, .357 Magnum-Remington Semi-Jacketed Hollow Point, .357 Magnum-Speer Gold Dot Hollow Point, .357 Magnum-Speer Gold Dot, .357 Magnum-Magtech LFN, .357 Magnum-Winchester Jacketed Soft Point, .357 Magnum-Cor-Bon DPX, .357 Magnum-Federal Hi-Shok JHP,
Other Cartridges with Similar Widths (cartridges not bullets)
.22 Hornet, .460 Smith & Wesson, .17 Aguila, .338 Lapua Magnum, 7x57mm Mauser, 9mm Luger (9mm Parabellum) (9x19mm), .300 Winchester Short Magnum, .25-35 Winchester, .338 A Square, .327 Federal Magnum, 9mm Makarov (9x18mm), .45 Auto (.45 ACP), .338 Remington Ultra Magnum, .41 Remington Magnum, .380 Auto (9mm Browning Short),
Other Cartridges with Similar Length
.204 Ruger, .44-40 Winchester, .44 Smith & Wesson Special, .44 Colt, .35 Remington, .44 Remington Magnum (Pistol Data), 7.62x39mm Russian, .223 Winchester Super Short Magnum (WSSM), .224 Weatherby Magnum, .45 Smith & Wesson Schofield, .300 Savage, .222 Remington Magnum, .243 Winchester Super Short Magnum (WSSM), .17 Remington, .50 Action Express,
Bullet Database
Power Rank
The PowerRank is an estimation of the cartridge power. The first number is the value of this cartridge, and the last number is the value of the most powerful round in our bullet database.