.204 Ruger Ballistics
History, Details, Ballistics, and Drop for the .204 Ruger
Cartridge Type: Rifle
Height: 1.84"
Width: 0.378"
Average FPS: 3935
Average Energy: 1272
Average Gr: 37
Recoil: 0.6
Power Rank: 1.46 of 20 [?]
The .204 Ruger was designed in 2004 by Ruger and Hornady manufacturers. The cartridge is a centerfire rifle shell casing based off the .222 Remington Magnum design with a small rifle primer. The .204 Ruger is the second largest casing in its class behind the 5.6x50 Magnum. The ballistic performance based off the 32 V-Max, 40 , 45 grain are 4,225 ft/s (32 gr), 3,900 ft/s (40 gr), and 3,625 ft/s (45 gr).
The .204 Ruger is considered to be accurate on distances up to 270 yards. This makes it a good choice for varmint hunting such as prairie dogs, ground squirrels, and small game. The extended range makes the rifle popular among enthusiasts who wish to field test their shooting skills on varmints such as ground hogs.
The bolt action models are known to have a good track record for sport shooting due to being able to perform in all weather types such as rain, dust, or snow. Hornady boasts the fastest trajectory claims for any bullet of its class using a special powder that is not available to the public. The ballistic for the public version of the .204 Ruger are slower, but still in the upper echelon of ft/s making that continue to help make it a popular centerfire cartridge.
*Casing image above is an artist rendering and not a real photo of .204 Ruger Ballistics cartridge. While we have went to great lengths to make sure that it's as accurate as possible this rendering should not be used to generate specs for casings.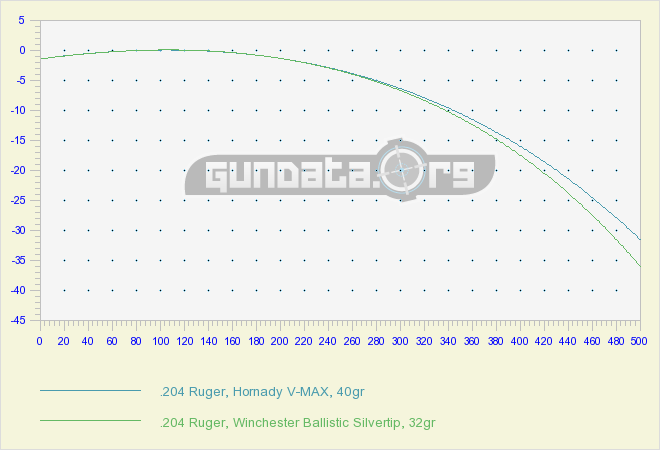 Handpicked .204 Ruger Ballistics Videos from YouTube
Known Rounds
.204 Ruger-Remington AccuTip-V, .204 Ruger-Winchester Ballistic Silvertip, .204 Ruger-Hornady V-MAX, .204 Ruger-Nosler Ballistic Tip, .204 Ruger-Federal Nosler Ballistic Tip, .204 Ruger-Hornady SP, .204 Ruger-Winchester Hollow Point, .204 Ruger-Hornady V-MAX, .204 Ruger-Remington AccuTip, .204 Ruger-Federal Sierra BlitzKing,
Other Cartridges with Similar Widths (cartridges not bullets)
.327 Federal Magnum, .357 SIG, .350 Remington Magnum, 9x23mm Winchester, 8x57mm Mauser JS, 6.5mm Remington Magnum, 7mm-08 Remington, .380 Auto (9mm Browning Short), .30-06 Springfield, .416 Remington Magnum, .458 Lott, .450 Marlin, .32 Smith & Wesson Long, .325 Winchester Short Magnum, .240 Weatherby Magnum,
Other Cartridges with Similar Length
.44 Colt, .300 Savage, .357 Magnum (Rifle Data), .223 Remington (5.56x45mm NATO), .44 Remington Magnum (Pistol Data), .50 Action Express, .25-20 Winchester, .38 Special (.38 Smith & Wesson Special), .460 Smith & Wesson, .222 Remington, .45 Smith & Wesson Schofield, .22-250 Remington, .224 Weatherby Magnum, .30 M1 Carbine, .204 Ruger,
Bullet Database
Power Rank
The PowerRank is an estimation of the cartridge power. The first number is the value of this cartridge, and the last number is the value of the most powerful round in our bullet database.