.223 Remington (5.56x45mm NATO) Ballistics
Ballistics and Drop for the .223 Remington (5.56x45mm NATO)
Cartridge Type: Rifle
Height: 1.76"
Width: 0.378"
Average FPS: 3148
Average Energy: 1254
Average Gr: 57
Recoil: 0.8
Power Rank: 1.79 of 20
The .223 Remington is a common United States cartridge having similar dimensions to the 5.56x45mm NATO, the difference being that the 5.56 has a greater psi. This round was designed and released in 1964 by Remington Arms, thus the name .223 Remington.
The .223 has great external ballistics and very little drop allowing this round to be accurate at 200 yards and possibly more. If you are shooting at a distance be sure to use our ballistic calc to create your drop tables if you dont already have them. Some ranchers like to print, cut and paste their 223 drop sheets on the side of their rifles for quick reference, sorta like a cheat sheet.
All in all this round is great for medium to small game, but it really isnt a deer hunters bullet of choice as it lacks the power that many of the larger rifle rounds have. In fact its illegal to hunt deer in many states with this round.
The .223 can be found at most sporting goods facilities, and just about every ammo store that isnt out of stock. The bullet is often called and categorized as a varmint round. This is the round that most AR-15s fire, although most are dual chambered to handle the 5.56x49mm.
*Casing image above is an artist rendering and not a real photo of .223 Remington (5.56x45mm NATO) Ballistics cartridge. While we have went to great lengths to make sure that it's as accurate as possible this rendering should not be used to generate specs for casings.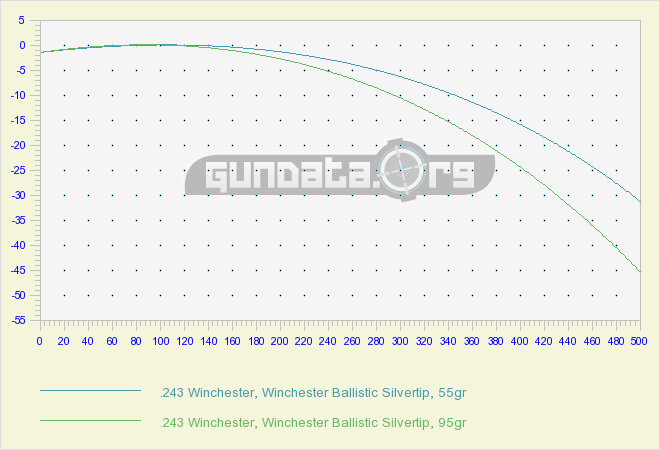 Handpicked .223 Remington (5.56x45mm NATO) Ballistics Videos from YouTube
Known Rounds
Other Cartridges with Similar Widths (cartridges not bullets)
.25-06 Remington, .17 Remington, .222 Remington, .375 Remington Ultra Magnum, .30 Luger (7.65mm), .240 Weatherby Magnum, .35 Whelen, .405 Winchester, .450 Marlin, 7mm Remington Short Action Ultra Magnum, 7mm Winchester Short Magnum (WSM), .257 Weatherby Magnum, .32 H&R Magnum, 5mm Remington Rimfire Magnum, .25 Auto (ACP),
Other Cartridges with Similar Length
.32-20 Winchester, .475 Linebaugh, .44 Remington Magnum (Rifle Data), .223 Winchester Super Short Magnum (WSSM), .225 Winchester, .25-20 Winchester, .44 Colt, .17 Hornady Magnum Rimfire (HMR), .44 Remington Magnum (Pistol Data), .38 Special (.38 Smith & Wesson Special), .250 Savage, .30 M1 Carbine, .327 Federal Magnum, .45 Smith & Wesson Schofield, 7.62x39mm Russian,
Bullet Database
Power Rank
The PowerRank is an estimation of the cartridge power. The first number is the value of this cartridge, and the last number is the value of the most powerful round in our bullet database.