Zombie Ammo
Article Posted: April 10, 2012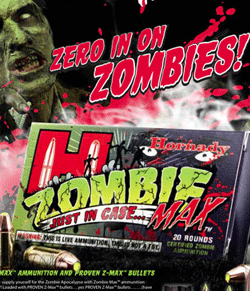 The new zombie slaughtering, undead obliterating, animated corpse pounding ammo from Hornady nicely dubbed ZombieMax is a nice spin on Hornadies critical defense ammo.
Hornady has a nice line of critical defense ammo in case you have not heard. What they have done is replace the orange red plastic core with a green core, done some nice design work and then marketed this ammo as a Zombie killing fully functioning ammo novelty.
What caliber does this come in?
ZombieMax comes in 9mm, 40 S&W, 45 Auto, .223 Remington, 7.62X39, 308 WIN, and 12 GA. Now this is real ammo so don't go buy a box thinking your going to give it to your nephew or niece as a cool gift.
We have heard rumor that they may expand the undead ammo to other popular calibers like the .380 ACP, but may just be rumors.
Performance
This ammo should function just like the critical defense ammo, but we have not performed ballistic testing to verify this. It's just a semi intelligent assumption. Hornady has great quality control and that green core does 2 things. It prevents clogging of the hollow point with uneaven bits of clothing, and it ensures a very regular and even expansion of the bullet upon impact.
Mossberg 500 Chainsaw + 12 Ga ZombieMax = Total Annihilation

If you are serious about killing some zombies..(who isn't right) we have a the perfect combination to get the job done right! We suggest you buy the Mossberg 500 Chainsaw, and a box of the 12 Gauge ZombieMax zombie ammo just in case. If you've yet to see what the Mossberg 500 Chainsaw looks like the click the link above. Basically the 500 chainsaw is a hardcore short barrel tactical shotgun with what appears to be a chainsaw handle on the top. It's a zombies worst nightmare!
Im 100% sure of it. That gun with this ammo and Zombies don't stand a chance....ever.
ZombieMax Promo Video
ZMax Varmant Promo Video
Where and when to buy?
This ammo can be found at most major retailers of guns and some larger and more savy local shops. You really should pick up a box of this if you can, we are not sure how long they are going to produce this stuff, but it is just to cool to passup. We'be purchased a few boxes in 9mm and 40 S&W and we don't ever plan to shoot them.
The Official Site
http://www.hornady.com/ammunition/zombiemax
Related Articles
Please like, share, favorite, bookmark, and comment. Thank You.