.357 SIG Ballistics
Ballistics and Drop for the .357 SIG
Cartridge Type: Handgun
Height: 0.865"
Width: 0.434"
Average FPS: 1379
Average Energy: 515
Average Gr: 122
Recoil: 0.76
Power Rank: 3.36 of 7
The .357 SIG is a necked down 10mm, or a a necked down .40 S&W depending on how you want to look at it. This round was created back in 1994 not so very long ago, and was designed by SIG-Sauer. (thats where the name comes from). The .357 Sig is a very fast round much faster than the 380, 9mm, 40, 10mm,45 ACP, and even the large 357 Cartridge. The sig has an average speed of 1379 fps if you round speed of all know ammo.
This round is hard to find and very expensive compared to the 9mm, and the 40 S & W. This is most likely due to the fact that it's not produced in the numbers that the other cartridges are. If it becomes a more popular round in the future, chances are the price will drop when there are more ammo manufacturers producing the bullet.
The average gr is 122 and this number again is created by averaging all known ammo for the cartridge, we are not even sure if they make a 122 gr bullet it's just the average. It has on average 515 lb of energy at the muzzle. This means the Sig 357 has more energy at muzzle than the 40, 45 gap, 45 auto, 9mm and of course the smaller rounds. Data shows this as a very stout and fast cartridge flying flatter and further than its parent case the 40 with ease according to our ballistic calculations. Overall power ranking however sets it between the 9mm and 40 S & W for a final tally.
*Casing image above is an artist rendering and not a real photo of .357 SIG Ballistics cartridge. While we have went to great lengths to make sure that it's as accurate as possible this rendering should not be used to generate specs for casings.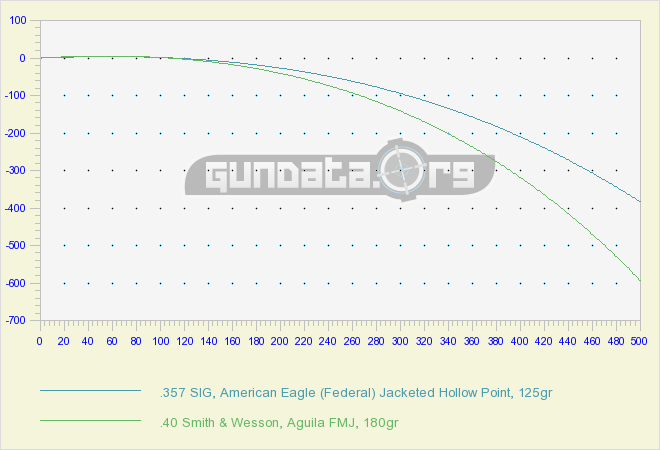 Handpicked .357 SIG Ballistics Videos from YouTube
Known Rounds
.357 SIG-Winchester Jacketed Flat Point NT, .357 SIG-UMC (Remington) MC, .357 SIG-Hornady JHP/XTP, .357 SIG-Remington Jacketed Hollow Point, .357 SIG-UMC (Remington) Jacketed Hollow Point, .357 SIG-Cor-Bon Glaser Safety Slug, .357 SIG-Ultramax FMJ, .357 SIG-USA (Winchester) Jacketed Hollow Point, .357 SIG-Speer TMJFN Lawman, .357 SIG-Federal Jacketed Hollow Point, .357 SIG-Cor-Bon JHP, .357 SIG-Speer Gold Dot, .357 SIG-Sellier & Bellot FMJ, .357 SIG-American Eagle (Federal) Jacketed Hollow Point, .357 SIG-Cor-Bon DPX,
Other Cartridges with Similar Widths (cartridges not bullets)
.17 Hornady Magnum Rimfire (HMR), .357 Magnum, .225 Winchester, .40 Smith & Wesson, .220 Swift, .300 Savage, .25-06 Remington, 7x64mm Brenneke, .38 Smith & Wesson, .284 Winchester, 7mm-08 Remington, 7mm Dakota, .25-20 Winchester, .475 Linebaugh, .30 Luger (7.65mm),
Other Cartridges with Similar Length
.480 Ruger, .44 Remington Magnum (Pistol Data), .380 Auto (9mm Browning Short), 8mm Remington Magnum, .50 Action Express, .222 Remington Magnum, .44 Remington Magnum (Rifle Data), .357 SIG, .375 Weatherby Magnum, 8.59mm (.338) Lazzeroni Titan, .45 Auto (.45 ACP), .416 Remington Magnum, .458 Lott, .400 A-Square Dual Purpose Magnum (DPM), 7.62x39mm Russian,
Bullet Database
Power Rank
The PowerRank is an estimation of the cartridge power. The first number is the value of this cartridge, and the last number is the value of the most powerful round in our bullet database.