.22 Short Ballistics
Ballistics and Drop for the .22 Short
Cartridge Type: Rifle
Height: 0.421"
Width: 0.278"
Average FPS: 896
Average Energy: 52
Average Gr: 29
Recoil: 0.13
Power Rank: 0.26 of 20
The .22 Short was developed in 1857 by manufacturer Smith & Wesson and is the oldest cartridge in use to date. Originally designed as a pocket pistol for self-defense, the .22 Rimfire Short is mostly used as a recreational round for sport or carnival shooting today. The ballistic performance of the 27, 29 grain are 1,164 ft/s (27 gr), and 1,132 ft/s (29 gr).
The high velocity hollow point .22 Short is used for small varmint hunting, but has mostly been taken over by the .22 Long Range in the small game hunting market. The .22 Short can is typically used to kill only small birds, rats, or mice at close range. The bullets are usually coated with grease, wax, or copper plated with lead as the core.
The international Olympic Rapid Fire Pistol competition also uses the .22 Short for its sport shooting. It is also used in mini-revolvers as a self defense weapon, but primarily recreation shooting is its main function in today's market. Shooting galleries such as fairs or arcades use the .22 Short model as their model design of choice for customers to shoot at targets.
*Casing image above is an artist rendering and not a real photo of .22 Short Ballistics cartridge. While we have went to great lengths to make sure that it's as accurate as possible this rendering should not be used to generate specs for casings.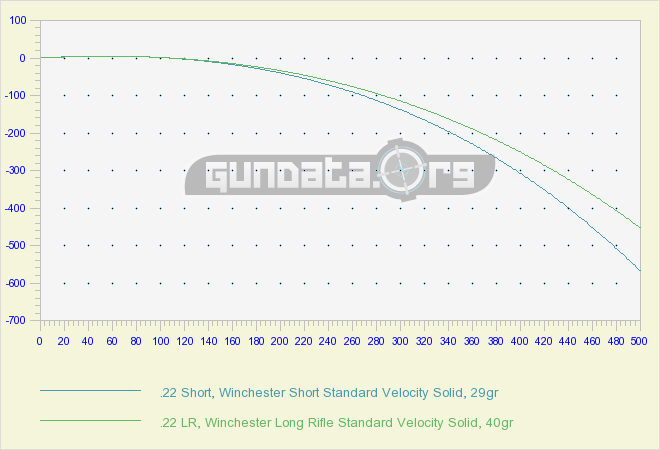 Known Rounds
.22 Short-CCI CPRN, .22 Short-Aguila Short Match, .22 Short-RWS Short R25, .22 Short-Aguila Short High Velocity, .22 Short-Sellier & Bellot Short, .22 Short-CCI Short CB, .22 Short-CCI Short Target Solid, .22 Short-Eley Short Rapid Fire Match, .22 Short-Fiocchi Short Round Nose Compensated Solid, .22 Short-Remington Plated Lead Round Nose, .22 Short-CCI CPHP, .22 Short-Winchester Short Standard Velocity Solid,
Other Cartridges with Similar Widths (cartridges not bullets)
5mm Remington Rimfire Magnum, 7mm STW (Shooting Times Westerner), .300 Weatherby Magnum, 6.8mm Remington SPC, .416 Remington Magnum, .300 Winchester Magnum, .454 Casull, .460 Smith & Wesson, 9.3x74R, .22 LR, .45 Colt (often called .45 Long Colt), .458 Lott, 6.5mm Remington Magnum, .22 Long Rifle High Velocity and Hyper Velocity, .40 Smith & Wesson,
Other Cartridges with Similar Length
8x57mm Mauser JS, .338 Lapua Magnum, .30-06 Springfield, .25-35 Winchester, .204 Ruger, .330 Dakota, .257 Weatherby Magnum, .221 Remington Fireball, 7-30 Waters, 9.3x74R, .35 Whelen, .32 Winchester Special, .475 Linebaugh, .17 Mach 2, 7mm Weatherby Magnum,
Bullet Database
Power Rank
The PowerRank is an estimation of the cartridge power. The first number is the value of this cartridge, and the last number is the value of the most powerful round in our bullet database.