17 HMR Ballistics Chart & Drop Table
Article Posted: July 11, 2012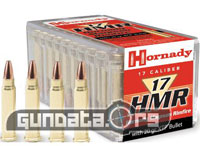 The .17 HRM or Hornady Magnum Rimfire is a tiny varmint round that is so small that it is said to explode on contact sparing the surrounding livestock. This makes it a great farm rifle, and an even better fun rifle. This mini bullet is lightweight and because of this is easily effected by the external forces of nature.
The drop of this bullet is such at 1000 yards that we decided to just do a 500 yard ballistic spec chart.
For this we used the .17 Hornady Magnum Rimfire (HMR), Hornady XTP, 20gr a common .17 hmr round. This bullet at 250 yds (half the mapped journey) has dropped 21.8749in (1.8 feet) the velocity has slowed some 1236fps as it went from 2374fps to to 1138.
At the end of the journey the 500 yard mark the bullet has dropped 210.9172 in (17ft), has a velocity of 800fps, all this in 1.27 seconds.
Want to run the test for your self and add features like wind and angle? Try our free online Ballistic Calculator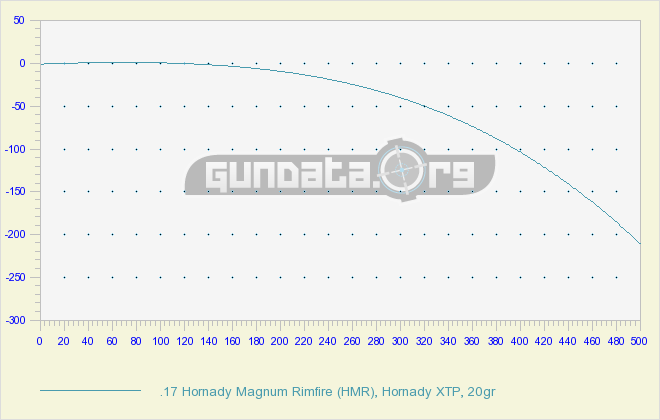 A A .17 Hornady Magnum Rimfire (HMR), Hornady XTP, 20gr
Range
Drop
(inches)
Velocity
Energy
Time
(milliseconds)
A
A
A
A
0
-1.4912
2374
250
0
50
0.2896
2062
189
68
100
0.0097
1776
140
147
150
-3.0493
1521
103
238
200
-9.8953
1304
76
345
250
-21.8749
1138
58
468
300
-40.5536
1028
47
607
350
-67.4461
952
40
759
400
-103.9289
893
35
922
450
-151.3142
843
32
1095
500
-210.9172
800
28
1278
.17 HMR or .223 for Long Range
As you can see from the chart below the .17 hrm really takes a nose dive at about the 250 yard marker, as compared to the .223 a larger round (also a varmint round). So we would suggest using something other than a .17hmr if shooting out past 250 yards. The bullet is just to small for ultra long range shots, but performs awesome under 250 yards or so. Both of these bullets are v-max hornady by the way.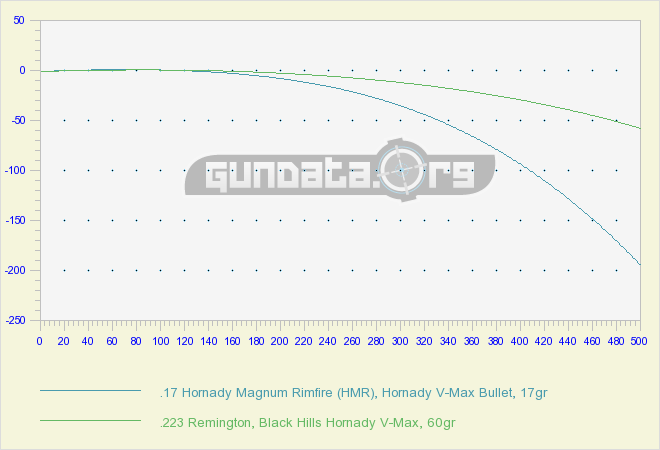 But hey don't just trust us see for yourself. You can compare any 2 bullets made by using our simple and free online Ballistic Calculator
Liked this? Try these too..
Related Articles
Please like, share, favorite, bookmark, and comment. Thank You.