10mm Auto Ballistics
History, Details, Ballistics, and Drop for the 10mm Auto
Cartridge Type: Handgun
Height: 0.992"
Width: 0.425"
Average FPS: 1199
Average Energy: 546
Average Gr: 171
Recoil: 0.96
Power Rank: 4.1 of 7 [?]
The 10mm Auto is a round that was created back in 1982 as a Swedish round, and it never really has caught on very mainstream here in the United States, but it's a fairly hard hitting quality round nonetheless.
I think the 10mm never received it's due most likely because of the American love for the 45 ACP, and the fact that there just isn't a niche to be filled,and if there is no problem then no one wants to buy a solution. The 10mm is also hard to find when you compare it to the most popular American handgun cartridges, and people complain that the speed that the cartridge projects the bullet is just to fast and it causes over penetration.
The 10mm is really a big fast 40 S&W, or rather a 40 S & W is really a small slow 10mm as the 10mm is about 10 years older. The 10 has an average fps of 1199 if you take all the known rounds and divide accordingly, it has and average grain of 171 although they don't sell 171 grain bullets of course, it also delivers 546 lbs of energy at muzzle. All these specs put it just a bit faster and stronger than the 45 ACP, but with a smaller bullet.
In summary the 10mm is a great cartridge that has great potential but unfortunately no niche needs to to filled as the 40 and the 45 seem to be at the moment very popular cartridges and the 10mm falls in between in terms of performance. Will this round work for self-defense? Absolutely. The 10mm is a hard hitting cartridge that will take care of business assuming you can find the ammo. Check out the videos and ballistic data below.
*Casing image above is an artist rendering and not a real photo of 10mm Auto Ballistics cartridge. While we have went to great lengths to make sure that it's as accurate as possible this rendering should not be used to generate specs for casings.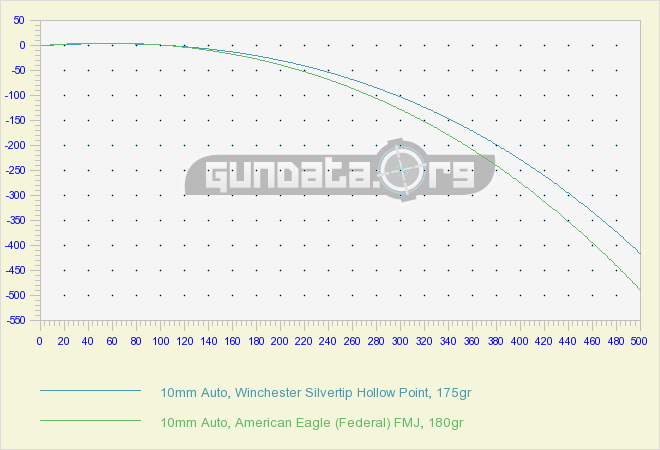 Handpicked 10mm Auto Ballistics Videos from YouTube
Known Rounds
10mm Auto-Cor-Bon JHP, 10mm Auto-Cor-Bon JHP, 10mm Auto-Federal Hydra-Shok JHP, 10mm Auto-American Eagle (Federal) FMJ, 10mm Auto-Cor-Bon Pow'RBall, 10mm Auto-American Eagle (Federal) FMJ, 10mm Auto-Cor-Bon Bonded Core SP, 10mm Auto-Hornady JHP/XTP, 10mm Auto-Cor-Bon RN PN, 10mm Auto-Winchester Silvertip Hollow Point, 10mm Auto-Ultramax FMJ, 10mm Auto-Cor-Bon Glaser Safety Slug, 10mm Auto-Hornady JHP/XTP, 10mm Auto-Cor-Bon DPX, 10mm Auto-Blazer (CCI) TMJ,
Other Cartridges with Similar Widths (cartridges not bullets)
.44 Remington Magnum (Rifle Data), .41 Remington Magnum, 10mm Auto, .40 Smith & Wesson, .38 Special (.38 Smith & Wesson Special), 8x57mm Mauser JS, .25-06 Remington, .303 British, .220 Swift, .260 Remington, .30 Luger (7.65mm), .357 Magnum, .300 Remington Ultra Magnum, 7mm Dakota, 7x64mm Brenneke,
Other Cartridges with Similar Length
.450 Dakota, .35 Remington, .250 Savage, .38 Super Auto Colt, .41 Remington Magnum, .338-378 Weatherby, .378 Weatherby Magnum, .416 Weatherby Magnum, .257 Weatherby Magnum, 9x23mm Winchester, .25-06 Remington, .416 Rigby, .35 Whelen, .460 Weatherby Magnum, 9mm Largo (9x23mm)*,
Bullet Database
Power Rank
The PowerRank is an estimation of the cartridge power. The first number is the value of this cartridge, and the last number is the value of the most powerful round in our bullet database.