7x57mm Mauser Ballistics
Ballistics and Drop for the 7x57mm Mauser
Cartridge Type: Rifle
Height: 2.235"
Width: 0.473"
Average FPS: 2602
Average Energy: 2255
Average Gr: 150
Recoil: 1.68
Power Rank: 3.9 of 20
The 7x57mm Mauser was designed in 1893 by Paul Mauser and is also known as the 7mm Spanish Mauser, .275 Rigby, along with 7mm Mauser. The case is an original design with a rimless, bottleneck type case that fits a .285 inch bullet on a .325 inch neck with a case length of 2.244 inches and overall length of 3.071 inches. It has a large rifle primer with a 1:8.66 twist.
The ballistic performance for the 7.57 Mauser based off three grain types for muzzle velocity are 3,000 ft/s (139 gr), 2,600 ft/s (162 gr), 2,500 ft/s (173 gr RWS HMK), and 2,300 ft/s (173 gr Military load). The 7x57 Mauser has become a popular hunting rifle for shooters, and has been used by militaries such as the Spanish government.
The 7x57 Mauser has a almost flat trajectory along with a moderate recoil when fired. In addition it has good wound penetration on game up to the size of an elephant, which has been noted by such hunters as Walter Bell. Bell was famous for his African Safari hunting expeditions during the early 1900's, but later caliber rounds have replaced big game hunting cartridges such as the 7x57 Mauser. Now it used on game in North America up to the size of moose in most cases.
*Casing image above is an artist rendering and not a real photo of 7x57mm Mauser Ballistics cartridge. While we have went to great lengths to make sure that it's as accurate as possible this rendering should not be used to generate specs for casings.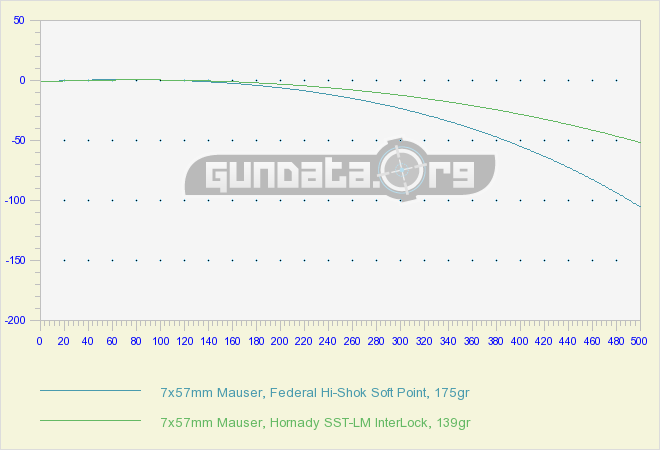 Handpicked 7x57mm Mauser Ballistics Videos from YouTube
Known Rounds
7x57mm Mauser-Sellier & Bellot SPCE, 7x57mm Mauser-Hornady BTSP InterLock, 7x57mm Mauser-Hornady SST-LM InterLock, 7x57mm Mauser-Norma Oryx, 7x57mm Mauser-Winchester Power-Point, 7x57mm Mauser-Federal Hi-Shok Soft Point, 7x57mm Mauser-Sellier & Bellot FMJ, 7x57mm Mauser-Sellier & Bellot HPC, 7x57mm Mauser-Federal Speer Hot-Cor SP, 7x57mm Mauser-Federal Nosler Partition, 7x57mm Mauser-Sellier & Bellot PTS, 7x57mm Mauser-Remington Core-Lokt Pointed Soft Point, 7x57mm Mauser-Sellier & Bellot Soft Point,
Other Cartridges with Similar Widths (cartridges not bullets)
.41 Remington Magnum, .338 Remington Ultra Magnum, 7.21mm (.284) Lazzeroni Firebird, 7x57mm Mauser, .45 GAP (Glock Automatic Pistol), .300 Remington Short Action Ultra Magnum, .357 SIG, .22-250 Remington, .44 Remington Magnum (Pistol Data), .32-20 Winchester, .280 Remington, .480 Ruger, .300 Savage, 7.62x39mm Russian, .25 Winchester Super Short Magnum (WSSM),
Other Cartridges with Similar Length
6mm Remington, 8x57mm Mauser JS, .444 Marlin, .303 British, .257 Roberts, 6.5x57 Mauser, .220 Swift, 7x57mm Mauser,
Bullet Database
Power Rank
The PowerRank is an estimation of the cartridge power. The first number is the value of this cartridge, and the last number is the value of the most powerful round in our bullet database.