.25 Auto (ACP) Ballistics
Ballistics and Drop for the .25 Auto (ACP)
Cartridge Type: Handgun
Height: 0.615"
Width: 0.302"
Average FPS: 814
Average Energy: 68
Average Gr: 46
Recoil: 0.17
Power Rank: 0.74 of 7
The .25 ACP or .25 Auto is another John Browning cartridge created back in 1904 and is a semi rimmed cartridge. (extractor grooves rims wider in diameter than the rest of head) The .25 ACP is not the ideal handgun cartridge for protection. It exerts 68 lbs of energy/force on average and this is less than half what the .380 pushes, and people say the .380 may be under powered.
It's small size does mean however that it fits well into magazines and pistols made for conceal carry. So in terms of capacity the .25 ACP is great, but again in terms of terminal ballistics, it's only better than the .22. It does have the added benefit of being a slow small round and this should prevent over-penetration and make sure you get every drop of that 68lbs of force.
The .25 ACP could also be used as a learning round for youth as a step up from the .22 before they start firing cartridges like the 380, 9mm, 40 cal, 45 ACP etc. It can be used to help build gun confidence by providing less recoil and noise.
In short summary if you want a cool plinker gun and can get a pistol chambered in .25 ACP from a gun show or pawn shop for a steal by all means buy the gun. This gun in our opinion should not be used as a primary self defense conceal carry weapon, but may function as a backup if you have no other alternative.
*Casing image above is an artist rendering and not a real photo of .25 Auto (ACP) Ballistics cartridge. While we have went to great lengths to make sure that it's as accurate as possible this rendering should not be used to generate specs for casings.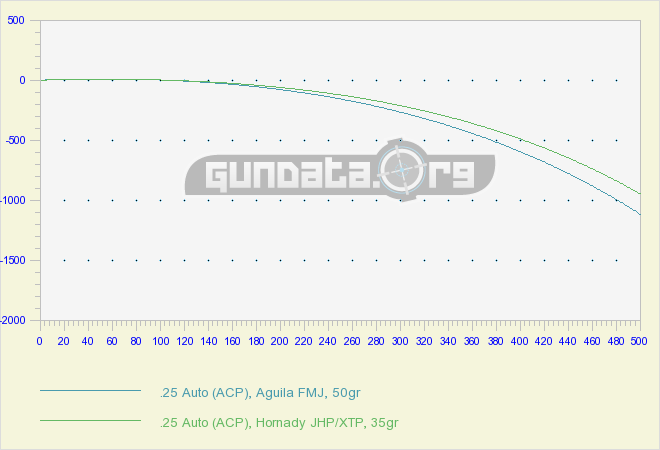 Known Rounds
.25 Auto (ACP)-Magtech FMC, .25 Auto (ACP)-Sellier & Bellot FMJ, .25 Auto (ACP)-UMC (Remington) Metal Case, .25 Auto (ACP)-Remington Metal Case, .25 Auto (ACP)-Hornady JHP/XTP, .25 Auto (ACP)-Aguila FMJ, .25 Auto (ACP)-PMC Full Metal Jacket, .25 Auto (ACP)-Speer TMJ RN Lawman, .25 Auto (ACP)-Blazer (CCI) TMJ, .25 Auto (ACP)-Cor-Bon Glaser Safety Slug, .25 Auto (ACP)-Fiocchi XTP, .25 Auto (ACP)-Fiocchi FMJ, .25 Auto (ACP)-Speer Gold Dot Hollow Point, .25 Auto (ACP)-USA (Winchester) Full Metal Jacket, .25 Auto (ACP)-Winchester Expanding Point,
Other Cartridges with Similar Widths (cartridges not bullets)
6.53mm (.257) Lazzeroni Scramjet, .308 Winchester (7.62mm NATO), .30-06 Springfield, .30 Luger (7.65mm), .35 Whelen, .32 H&R Magnum, .300 H&H Magnum, 7x57mm Mauser, .243 Winchester, .221 Remington Fireball, .220 Swift, .257 Weatherby Magnum, .450 Marlin, .327 Federal Magnum, .250 Savage,
Other Cartridges with Similar Length
6.5x55mm Swedish Mauser, 6.8mm Remington SPC, .223 Remington (5.56x45mm NATO), .357 SIG, .500 Jeffery, .454 Casull, .22 Long, .22 Long Rifle High Velocity and Hyper Velocity, .25 Auto (ACP), .32 Auto (7.65mm Browning), .17 Aguila, .300 Winchester Magnum, .45 GAP (Glock Automatic Pistol), .500 Smith & Wesson Special Magnum, .17 Remington,
Bullet Database
Power Rank
The PowerRank is an estimation of the cartridge power. The first number is the value of this cartridge, and the last number is the value of the most powerful round in our bullet database.