.303 British Ballistics
Ballistics and Drop for the .303 British
Cartridge Type: Rifle
Height: 2.222"
Width: 0.54"
Average FPS: 2540
Average Energy: 2406
Average Gr: 168
Recoil: 1.98
Power Rank: 4.27 of 20
The .303 British (7.7x56mmR) was the British standard round until about 1957, and had been in use for over 60 years. In 1957 the .308 also known as the 7.62x51mm NATO became the official NATO round and was therefore adopted by the brits.
There aren't that many manufacturer's still producing the .303 today but the ones produced range from 150 to 180 grain , with ballistic coefficients ranging from .276 to .370. The average energy from the average of all the rounds is 2406, and the average speed of this bullets 2540fps. You can also see from the power rank listed above that this cartridge does not lack power.
If you run ballistic tests with the .303 and the .308 you will find that the 308 has more energy, has a slightly higher velocity, and flies a bit flatter (less drop). These bullets are identical in trajectory until about the 130 yard mark. We compared the 303 British, Hornady Soft Point InterLock, 150gr with the 303 British, Hornady Soft Point InterLock, 150gr. It's is often hard to compare bullets from one gun with another gun, but we feel these match up rather closely with same manufacturer, same gr, and a similar ballistic coefficient. The 303's was 0.361, and the .308's was 0.338.
This round served the British well in both world wars, and if you can pick up a replica that shoots the 303 at a reasonable price it may be worth it as this is really a good round that is rarely used any more. This gun would make a great plinker, but do to the lack of readily available ammo this gun may not be right for you as your primary hunting or target shooting weapon.
*Casing image above is an artist rendering and not a real photo of .303 British Ballistics cartridge. While we have went to great lengths to make sure that it's as accurate as possible this rendering should not be used to generate specs for casings.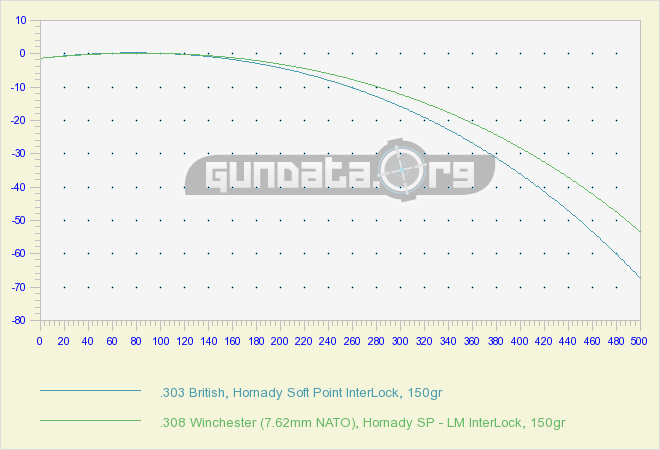 Handpicked .303 British Ballistics Videos from YouTube
Known Rounds
.303 British-Sellier & Bellot Soft Point, .303 British-Federal Soft Point, .303 British-Sellier & Bellot Full Metal Jacket, .303 British-Federal Speer Hot-Cor SP, .303 British-Hornady Soft Point InterLock, .303 British-UMC (Remington) Metal Case, .303 British-Winchester Power-Point, .303 British-Remington Core-Lokt Soft Point,
Other Cartridges with Similar Widths (cartridges not bullets)
.22 Long, 7mm STW (Shooting Times Westerner), 6.5x54 MS (6.5 Mannlicher-Schoenauer), 5mm Remington Rimfire Magnum, .375 Winchester, 7mm Weatherby Magnum, .270 Winchester Short Magnum, .221 Remington Fireball, 6.5x57 Mauser, 7mm-08 Remington, .30 M1 Carbine, .300 Savage, .17 Remington, 8.59mm (.338) Lazzeroni Titan, .25-06 Remington,
Other Cartridges with Similar Length
.220 Swift, 6mm Remington, .257 Roberts, .444 Marlin, 8x57mm Mauser JS, 7x57mm Mauser, 6.5x57 Mauser, .303 British,
Bullet Database
Power Rank
The PowerRank is an estimation of the cartridge power. The first number is the value of this cartridge, and the last number is the value of the most powerful round in our bullet database.