5 Hunting Rifles Under $500
Article Posted: July 10, 2012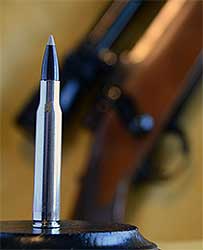 As the 2012 hunting season begins to approach; avid and casual hunters alike can start gathering information on looking to add to your rifle collection. There are a variety of manufacturers and models to choose from while searching for quality rifle to do the job at an affordable price. Whether you are searching for a first time rifle for a son or daughter or trying to find a balanced weapon that can handle the task for upcoming hunting season, each rifle listed below is a capable time-tested rifle that has been used for decades by gun owners in the U.S.A. Typically 90-110 grain bullets are used on smaller sized game, 130 on medium, and 140-160 on larger game. Rifles that provide well placed shots can take down any sized game even if the grain doesn't match these standards.
With a little bit of research and some common sense we've compiled a list of the best 5 hunting rifles under $500.00 as of 2012. These choices are listed below in alphabetical order. While not everyone will agree 100% oneach recommendation; the data provided will at the least give you a great starting point.
Savage Arms .243 Winchester
Introduced in the mid-fifties as a varmint rifle, the .243 has become a solid selling hunting rifle for medium sized big game enthusiasts ever since. It has the power and ability to take down antelope and deer. Most .243 rifles start out at 22"and weigh around 6.5 pounds. It can easily take down a deer under 300 yards with a well placed shot.
Average Starting Price: $350.00
Browning A Bolt .270 Winchester
Introduced in 1925 as an offshoot of the 30/06 cartridge; the 270 gained popularity thanks to Outdoor Life writer Jack O'Conner's consistent praise of the rifle through four decades of use. It has the ability to act as a varmint or big game rifle. Most models weigh around 6.70 pounds; have a 22-inch barrel, and 4+1 shell cartridge with adjustable trigger.
Average Starting Price: $495.00
Howa M-1500 308 Winchester
Introduced in 1952, the .308 Winchester has become one of the most used rifles around the world. It has the power and ability to take down medium sized big game such as deer and large big game such as black bears. Bolt action models usually have 4+1 round chamber with a 22"barrel.
Average Starting Price $495.00
Remington 770 Sport Rifle 30-06
This upgrade from the 710 model provides a display of accuracy matched with smoothness. It comes with a factory mounted 3-9x40 rifle scope and a 4+1 round cartridge. The 30-06 Springfield weighs 8.5 pounds, is 42.5-inches (22"barrel) in length.
Average Starting Price: $295.00
Marlin XL7
The Marlin XL7 has been heralded by enthusiasts as a must have rifle under 500 dollars. It's unique style and noted smooth action has made it a popular choice among many avid hunters. The xl7 comes in .270 Winchester in addition to 30-06 models. They have the capacity to hold 4+1 casings, 22-inch barrels, and typically weigh 6.5 pounds.
Average Starting Price: $350.00
Contributing Author: Jason Brumett
You may also like these...
Thanks to pamwood707 for use of photo
Related Articles
Please like, share, favorite, bookmark, and comment. Thank You.