308 Ballistics Chart & Coefficient
Article Posted: July 10, 2012

The following is a 1000 yard .308 ballistic chart that was created using our free online ballistic calculator and details all aspects of the bullets trajectory from the millisecond it leaves the barrel until the time it reaches the 1,000 yd mark. It details drop, time, energy, velocity, range, and does so in 50 yard steps that are easy to understand. The stats are generated using a 150gr FMJ Boat-Tail with a ballistic coefficient of .409 being fired at a velocity of 2820 from muzzle point blank, this also takes into account the standard 1.5" scope height, and a gun that has been sighted in at 100 yards. If your .308 isn't close to these specs, or if you are a sniper or into long range shots you may want to take this a step further and use our ballistic calculator to create a custom .308 ballistic chart to take into account variances. You can then also add atmospheric conditions and angles.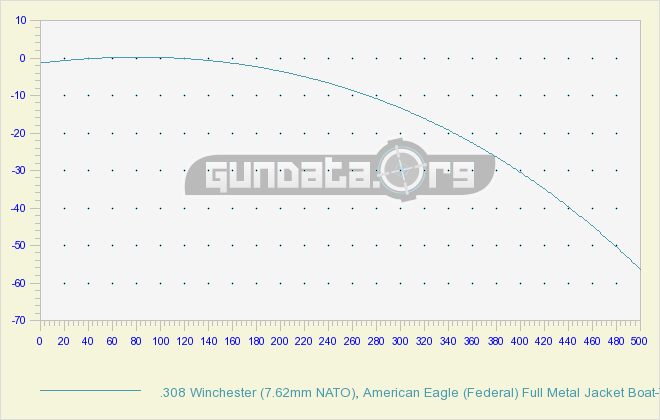 A A .308 Winchester (7.62mm NATO), American Eagle (Federal) Full Metal Jacket Boat-Tail, 150gr
Range
Drop
(inches)
Velocity
Energy
Wind drift
(inches)
Time
(milliseconds)
A
A
A
A
A
0
-1.4936
2820
2648
0.0000
0
50
-0.1498
2707
2440
0.0000
55
100
0.0075
2598
2248
0.0000
111
150
-1.1241
2491
2066
0.0000
170
200
-3.6576
2387
1897
0.0000
232
250
-7.7183
2285
1739
0.0000
296
300
-13.4456
2185
1590
0.0000
363
350
-20.9951
2088
1452
0.0000
433
400
-30.5401
1993
1323
0.0000
507
450
-42.2743
1901
1203
0.0000
584
500
-56.4146
1812
1093
0.0000
665
So what does the charting of the .308 Winchester's external ballistics tell us exactly? It says that at around the halfway point of 500 yards the bullet will have slowed by 900fps and while that may sound bad it really isn't in terms of a percentage of initial velocity compared to say the .223 Remington (would be 1481fps from initial 3214fps) or the 7.62x39mm (would be 1066fps from initial 2349fps). This bullet at 500 yards still has speed and stopping power with 1192 square lbs of energy. In fact the .308 Winchester 165gr bullet is traveling faster at 1000 yards than the .223 or 7.62x39mm at just 500 yds.
Liked this? Try these too..
Guest Writers Wanted!
We are looking for writers that specialize or are familiar with; Hunting, Fishing, Camping, Survival. If you would be interested in writing articles in any one of those genres please contact us at info @ gundata.org
Need a Product Reviewed?
Want us to review your product? Send an email to info @ gundata.org and let's talk. If the product is something of interest we'll review the item for free.