.223 Ballistics Chart & Coefficient
Article Posted: July 11, 2012

This is a .223 ballistics chart (external) generated using our ballistic trajectory calculator. Based off a standard 55gr bullet leaving the barrel at 3,215fps and follows the bullet trajectry all the way to 1000 yards in steps of 50 yard increments. The charting shows the range, drop (based off a 1.5" scope mount), current velocity, energy, and time in seconds in relation to the bullets movement through space and time. This chart does not account for atmospheric conditions, so if you want to take in to effect these things check out the calculators official page. The Ballistic Coefficient for the .223 Remington, Remington Metal Case, 55gr is 0.202 (in this example) but, but may also range from .185 bc to .257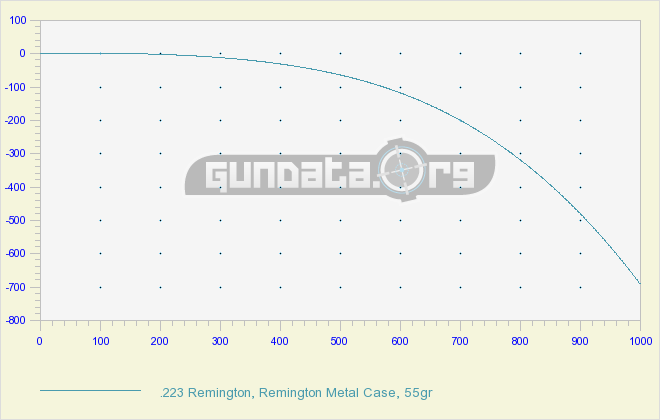 A A .223 Remington, Remington Metal Case, 55gr
Range
Drop
(inches)
Velocity
Energy
Time
(milliseconds)
A
A
A
A
0
-1.4944
3239
1281
0
50
-0.2598
2992
1093
49
100
0.0017
2759
929
101
150
-0.8818
2537
786
157
200
-3.1190
2326
661
219
250
-6.9673
2125
551
287
300
-12.7464
1934
457
361
350
-20.8563
1755
376
442
400
-31.7981
1588
308
532
450
-46.1962
1437
252
631
500
-64.8176
1302
207
741
550
-88.5729
1189
173
862
600
-118.4729
1101
148
993
650
-155.5388
1033
130
1134
700
-200.7333
981
118
1283
750
-255.1502
937
107
1440
800
-319.2840
900
99
1604
850
-394.1343
867
92
1773
900
-480.5335
837
86
1950
950
-579.6734
809
80
2133
1000
-691.7547
783
75
2321
So what does the charting of the .223 remingtons external ballistics tell us exactly? It says that at around the halfway point of 500 yards the bullet will have slowed to less than half of its original velocity, lost 1000 ft pounds of energy (now pushing just 207 lbs), and dropped due to gravitational forces some 64 some inches, and all of this in just a fraction of a second (.741 of a second).
Liked this? Try these too..
Related Articles
Please like, share, favorite, bookmark, and comment. Thank You.