10 Gun Mounted Lights for Home Defense
Article Posted: September 6, 2012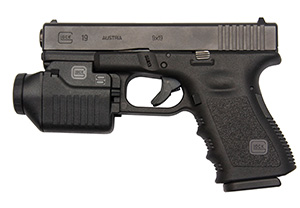 We've all experienced it. Something goes "WHAM!" in the night and the first thing we think of as we come out of a dead sleep is "What was that?!?" Regardless of where you live, one possibility that comes into mind almost instantly is that someone could be breaking in. However, getting up and fumbling around the house, trying to see what is going on could be dangerous without a gun and turning on lights can get you shot. So, what do you do?
You've seen all the cop shows where they walk around with a flashlight in one hand and the gun in the other, sometimes with wrists crossed for stability. This looks great on TV, but in real life, can cause more problems than it solves. Having a gun mounted flashlight, whether for a pistol or for a long gun is a much safer solution.
Here are 10 great gun mounted flashlights that can give you a tactical edge during a home defense situation:
1. Nebo Pro Tech Elite HP190 - Excellent inexpensive light for rail mounting on rifles, carbines and full size pistols with rails such as a Glock 17. 190 lumens
2. Streamline HL TLR-1 - High Lumen light (630 lumens) with tight beam and great peripheral illumination. One hand snap on/tighten interface makes it easy to connect to railed weapons.
3. Streamline HL TLR-1s - Similar to above but with strobing ability.
4. Barska FLX - 260 lumen flashlight with tactical grip, exceptionally effective with AR15/M16 etc. installations. Works well with either Weaver or Picatinny rails.
5. Hilight 250 Strobe - 250 lumens with steady on or strobe mode. Inexpensive strobing solution for pistols with rails.
6. Nebo Pro Tech Elite w/Laser - Combines a highly effective flashlight with an LED laser sight for quick target acquisition. Flashlight has 190 lumen lamp good for 300 feet and laser LED has a range of 450 feet.
7. GRG Manufacturing Tactical Laser w/Detachable Flashlight - Weaver rail designed laser sight with an easily detachable 50 lumens flashlight for easy holstering.
8. Firefield Shotgun Flashlight - Easy to mount flashlight for tactical shotgunning. Mounts to any 1" tube.
9. Elzetta Shotgun Mount - Polymer flashlight mount designed for Mossberg, Remington and Winchester shotguns. Will hold most flashlights from 0.70" to 1.05" in diameter.
10. Surefire M720V RAID - Contains both a white as well as IR lamps for night vision devices. Has remote switch for momentary on so you can acquire a target under IR conditions and verify/take down with white light.
A tactical flashlight has more than one use. For instance, you do want to see where you're going and what you're aiming at, but a good tactical light, such as those with a strobing capability also enables you to blind and confuse as well. Having one with a red or green laser to assist with aiming also provides you with a tactical advantage as well.
In situations where you don't want to, or can't illuminate the entire area, having a flashlight is a must. Having a flashlight mounted to your weapon, especially flashlights designed to give you at tactical advantage under adverse conditions could make all the difference in the world.
You may also like
Related Articles
Please like, share, favorite, bookmark, and comment. Thank You.