Top 10 Turkey Hunting Tips
Article Posted: March 31, 2015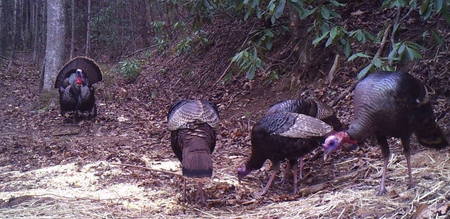 Field Cam Off Season Photo
Spring is here again, and with it comes the much anticipated turkey hunting season.
As you prepare yourself to stalk and harvest these elusive birds, here are ten things to keep in mind to help you along the way.
1. Make sure you have the right weapon and ammunition. This one sounds simple enough but a low brass #7 bird shot isn't the ideal ammo. If you can afford to buy something with a turkey on the box.
2. If you opt to use a bow instead, it should have the right tip. Broad head tips are the best. A carefully aimed shot at the neck of the bird from between 20 and 30 yards away usually gives the best results. A specilized broadhead tip like the D-Cap will d..capitate and humanely take the bird.

3. Scout for places where the gobblers roost a day or two before you plan on hunting. They often fly into the trees they will roost in just before sunset, so this would be the perfect time to scout suitable places to set up your hide. Remember, have more than one spot ready, just in case your first choice cannot be used.
4. Set up your hide about 100 yards from where the birds are, taking note that you need to have at least 50 yards unobstructed view in all directions, and if you can, a tree behind you for safety reasons. If you're not using a natural hide or a commercial hide, make use of local foliage and brush to make your own.
5. Make sure you have the right camouflage and camouflage yourself from head to toe (including gloves and a hat). Getting a camouflaged shotgun is an added bonus as well. Gobblers notice even the slightest movement with ease from as far as 100 yards away so avoid unnecessary movement. If you can't afford or just don't want to buy a camo gun pick up some non-adhesive cammo rap and apply that.
6. Master how to use different calls to locate and attract the gobblers. For beginners, the best calls are slate calls, as they are easy to master and are very effective when used correctly. The box call is a close second in terms of ease of use.
7. Clever use of decoys is another way of attracting gobblers. Make sure it is legal to use a decoy in the area you are hunting in. Stuffers and collapsible or inflatable decoys are ideal when hunting in an open field.
8. For safety reasons, avoid wearing red, white or blue when hunting, and avoid drugs and alcohol before and during the hunt. Stay focused.
9. Always make sure that you have unloaded your rifle every time you need to cross a fence, traverse a ravine, jump a fence and so on. Many shotguns are not dropsafe, meaning they can fire a shot if dropped.
10. In certain cases, you may hunt on Military Bases and land surrounding Paper plants, with the advantage of this being they often restrict the number of hunters on their land. Just like hunting on private land, always get written permission from the Base/Plant/land owner.
Whether on a private ranch or a public reserve, these tips should give you the edge you need to better your adversary and tell all your friends "Look what I caught this spring".
You may also like
Related Articles
Please like, share, favorite, bookmark, and comment. Thank You.