5 Alternative Range Bags for Pistols
Article Posted: January 3, 2015
5 Bags That Could Be Used As Range Bags and Why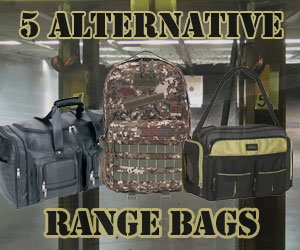 Your guns are an investment that should be well protected so that they remain in excellent working condition. You may attract unnecessary attention to yourself with a regular range bag, and they can be expensive. There are alternatives to choose from which offer advantages like being cheaper, more discreet and just as functional. Five of these alternatives are: -
#1 AWP Wide Mouth Tool (Cargo) Bag
Available at Lowe's, this standard tool bag comes with a bonus inner bag. Made from a water resistant material, the main bag is 16" long, 9" wide and 11" high, whereas the bonus bag is 11"long, 5"wide and 9" high. On the outside, the main bag has two flaps on one side, and 3 net pockets on the other side. The inside of the bag has a total of 12 pockets, which are ideal for storing shotgun shells, choke tubes, magazine pouches and boxes of ammo. The bonus bag is ideal for carrying pistols.
It is priced at $20.
#2 Trevi Expandable Laptop Bag
This heavy duty bag is available online from ebags.com. A range of compartments make it easier to organize all the components for your gun.
It has dividers in the rear main pocket to separate pistols. The front pocket can easily fit a larger gun, and the additional three compartments are ideal for packing ammunition or magazines. The zipped expandable option offers extra space when you need it.
Price starts from $30
#3 Eddie Bauer Diaper Bag
These stylish and highly functional bags are available at target. Based on the style you choose, you are likely to have a large inner pocket. Within this inner pocket are separate compartments of different sizes. The large inner pocket is ideal for holding small to medium frame handguns.
On the outside, you will find 2 front zip closed pockets, a large back pocket and 2 side pockets for storing ammunition and magazines. The additional changing mat can be used as a gun rug.
Price is from $40
#4 Bugatti Duffle Bag
This black zippered carry on the duffel bag is available on overstock.com. With a black synthetic leather exterior, this bag features 3 outer pockets that can easily carry shotgun shells and magazines. As a larger bag that is 10" high, 19" wide, and 9.5" deep, it can carry pistols, rifles and shotguns.
Price starts from $35
#5 MKT Rucksack
This military designed rucksack from Major Surplus and Survival is ideal for you if you are constantly carrying your range bag around. It is hardy and practical for storage and comfort. The large main compartment can hold rifles and larger handguns. The exterior zippered compartments are ideal for separating all the components of your gun. Being fully padded, it is easy to carry for long distances.
It retails from $40
Summary
When looking for a range bag, find one with a variety of compartments and pockets that will make it easier for you to separate safely and store all the different components of your gun.
You may also like
Related Articles
Please like, share, favorite, bookmark, and comment. Thank You.