5 Strange Handguns You Don't Need
Article Posted: December 5, 2013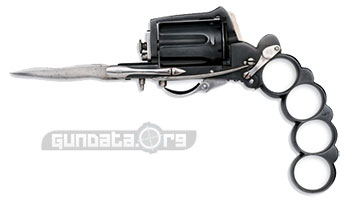 There have been some really impractical and outlandish guns created over the years, we thought it would be fun to make a list of 5 strange handguns you don't need, seeing as we are always buying things we don't really need anyway. If you wan't to own one as a novelty it makes sense I guess, but for any practical purpose...nope these guns are nuts. Enjoy these wacky firearms!
Apache Revolver / Knuckleduster
If the a swiss army knife and a revolver had a baby it still wouldn't be this ugly and outlandish. The designer of the Apache Revolver just couldn't decide. Did he want a knife? Did he mean to create brass knuckles? Was he trying to make a gun? Was he high on crack? maybe ..maybe.
Whatever he was thinking designer Louis Dolne made one ugly little oddity that we would like to add to our list of top strangest guns.
10 Shot 22Mag Derringer Pepper box
A strange little piece that you might want to add to your collection...for kicks. This gun is totally impractical, as each round has it's own dedicated barrel. You can get a MODEL 941 .22 MAG that has a capacity of 8 and fits in your hand..or you can have this behemoth of a contraction. The barrel assembly doesn't even rotate when you pull the trigger it has to be manually rotated with your free hand. Yeah the 22Mag Derringer Pepper Box belongs on this list for sure, and while there are some pepper box models that are less ridiculous this one takes the cake.
Duckfoot Pistol
This gun is called the Duckfoot Pistol because...well it looks like a ducks foot. This gun isn't in a class of it's own however, it is a type of volley gun. A volley gun is a gun with several barrels for firing a number of shots, either simultaneously or in sequence.
Why was an oddity like this ever made? It was actually popular at one time because it allowed 1 man to kill or injure many attackers instantly. In some twisted way that almost makes sense.
2 mm Revolver
Tired of guys telling you the 9mm isn't enough gun? Then show them this. The 2 mm Revolver is a tiny revovler that shoots a tiny 2mm projectile. These revovlers can be purchased at Pinfireguns.com and no doubt other companies have created such nutty revovlers. The 2mm makes the 9 look more than impressive.
World's Largest Revolver
The worlds largest revolver was built by a polish man in 2013 and is at the time of this article is listed in the Guinness World Record book as such. This gun is not mass produced so you would have to build one yourself. All the more reason not to own this revolver.
We hope you have found this interesting, if you have please like and share it with others.
You may also like
Related Articles
Please like, share, favorite, bookmark, and comment. Thank You.