Article Posted: December 3, 2013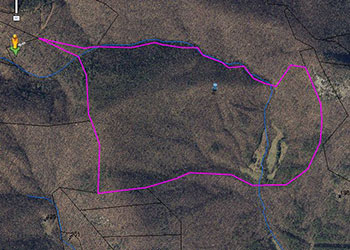 Here in the mountains of NC it is hard to find good hunting land or leases within 30 to 40 minutes of most major cities. Everyone it seems is fighting over increasingly smaller and smaller plots of land, and the bigger plots are dominated by large hunting clubs with high fees or limited "seating". I've been working through this process myself recently trying to acquire some land for my son and I to hunt (he just turned 6), and thought I would share my findings with you.
How To Find Good Hunting Land
1.) Make a nice 8x10 (black and white is fine) and ask permission to hang these at feed mills, pawn shops, and gun stores. Farmers frequent feed mills, and farmers like hunters because they keep the critters away from their crops. Pawn shops and gun stores have hunters as well.
Read ther rest of Find Hunting Leases and Land
Article Posted: November 25, 2013
10mm vs 40 Smith & Wesson
The 10mm auto cartridge was with a height of 0.992" has an average speed of 1199 fps from a 6" barrel and has an average 546 foot pounds per square inch of energy, while the 40 Smith & Wesson has a height of 0.85" travels around 1074 fps from a 6" barrel and has an average 423 foots pounds per square inch.
The numbers don't lie and neither does the history. The 40 is nothing more than a short 10mm, in fact the 10mm is it's parent case having been developed in the 80's for the FBI. Problem was however the round was to "hot" for most of the agents to handle so they settled for slightly less "kicky" 40 Smith & Wesson.
Read ther rest of 10mm vs 40 Summary and Ballistics
Article Posted: November 21, 2013
To some people it's all about caliber. They wouldn't be caught carrying anything smaller than a 45, still others claim shot placement is the Holy Grail. In this article we will look at the importance of shot placement.
Saying that shot placement is important is a huge understatement. When looking at emotionally charged topics like this however it's helpful to use analogies. So let's compare the great american sport of baseball to shooting.
In baseball there are bats of varying sizes and weights (the gun), the ball is moving at different speeds and you as the batter only have a number of pitches (3 to 6 ) to hit the ball (the target).
We all know that pulling your head out and swinging for the fences won't get you anywhere but out (dead). So what is the solution? A nice even level swing with eyes focused on the ball, and making contact. This is achieved through thousands of practice swings at real moving targets.
Read ther rest of How Important is "Shot Placement"?
Article Posted: November 20, 2013
First aid kits are packed for the primary purpose of having enough supplies to be able to access and render the proper amount of aid in the event of an emergency. First aid is helping to render immediate attention during an emergency as quickly as possible to help ensure there is no further injury, infection, or damage done to a person that has been injured in an accident. Accidents can affect people at any point, time, or place during a trip. Some needs for a first aid kit are only visible after they begin to appear. Poison ivy for example may take over an hour before symptoms start to show depending on a person's skin type. Being able to recognize an emergency is as important as being able to treat an emergency. Some people may only need lotion to help ease the itching. While other people might begin to show signs of a severe allergic reaction.
The first aid kit is one of the most important essentials to bring along during a trip into the back country. Having a properly packed first aid kit can mean the difference between being able to treat a wound or ailment before it becomes worse, and having it become worse as time passes by. It should be a small and compact kit that anyone can use to fix injures they may encounter during a trip. Most outdoor stores sell prepackages first aid kits, but some people also like to add to those or build their own.
Read ther rest of 10 Item First Aid Kit Checklist
Article Posted: November 13, 2013
Two events occurred in 2012 that have shaped and re-defined our liability as gun owners. February 16, 2012 was the date that forever changed the lives of George M. Zimmerman and Trayvon Martin. The incident that unveiled early that evening catalyzed an already heated debate over gun safety in America. It was around 7:00 PM when Zimmerman, coordinator for the Twin Lakes neighborhood watch, first encountered Trayvon Martin. Martin took off running when he saw Zimmerman and Zimmerman followed in pursuit. As the events unfolded, the incident evolved into an altercation that resulted in Martin\'s death. Zimmerman was ultimately charged with second degree murder but was later acquitted in a trial that captured our attention in the summer of 2013. What Zimmerman exposes is the extreme liability we face any time we carry.
Then on December 14, of 2012, we learned of the tragic shootings at Sandy Hook Elementary School in Newtown, CT. Adam Lanza, a 20-year old male shot 20 children and six adults after shooting and killing his own mother earlier in the day. The grief and outrage following this terrible shooting re-ignited that still-simmering debate over gun control but did nothing to add to our understanding of why these events keep occurring, or how to keep them from happening again. Again, we face substantial liability as we ask where our responsibility lies in preventing still another Newtown.
Read ther rest of Redefining Gun Owner Liability
Article Posted: September 11, 2013
We've all experienced it. Something goes "WHAM!" in the night and the first thing we think of as we come out of a dead sleep is "What was that?!?" Regardless of where you live, one possibility that comes into mind almost instantly is that someone could be breaking in. However, getting up and fumbling around the house, trying to see what is going on could be dangerous without a gun and turning on lights can get you shot. So, what do you do?
You've seen all the cop shows where they walk around with a flashlight in one hand and the gun in the other, sometimes with wrists crossed for stability. This looks great on TV, but in real life, can cause more problems than it solves. Having a gun mounted flashlight, whether for a pistol or for a long gun is a much safer solution.
Here are 10 great gun mounted flashlights that can give you a tactical edge during a home defense situation:
Read ther rest of 10 Gun Lights for Home Defense