Article Posted: Febuary 1, 2014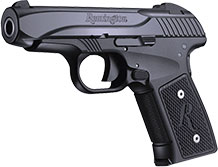 The Remington R51 was featured on the front page of Guns & Ammo and announced at ShotShow 2014 and is the first bit or originality we've seen in the subcompact / compact 9mm and 380 acp handguns that have been selling lately. Nearly every other handgun being sold in this niche has a separate guide rod, a part that is non existent in the new Remington R51.
For those of you unfamiliar with the internal workings of modern handguns the "Guide Rod" is not a fishing guide, but rather a long piece of polymer or metal that is used to stabilize the recoil spring.
Read ther rest of New Remington R51 9mm
Article Posted: January 28, 2014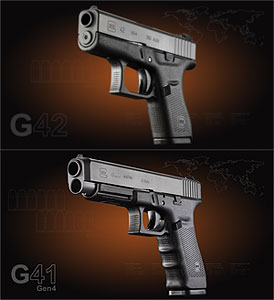 The new Glock 41 and Glock 42 that were recently revealed at the 2014 Shot Show are nice if not strange additions to Glock's current handgun lineup. If you haven't heard the news let us be the first to tell you about these 2 new tools.
Glock 42 (380 ACP)
The Glock 42 chambered in 380 auto is the most interesting of the 2 in my opinion. It is as far as I am aware the first single stack pistol that Glock has ever mass produced. Because it's single stacked it means it's thinner and has a width of just .94 in. To put this in perspective the Glock 17 probably the most widely used handgun in the world, has a width of 1.18 in. Other notable features on the Glock 42 are that it weight just 13.76 oz unloaded, has a capacity of just 6 +1, and a length of just 5.94 in. The Glock 42...
Read ther rest of New Glock 42 / Glock 41
Article Posted: January 28, 2014
Funny YouTube video from MattV2099 showing a 600 round gangsta assault magazine dump. Please don't look down on the low brow humor. You either think it's funny or not.
Read ther rest of 600 Round Glock Magazine
Article Posted: December 5, 2013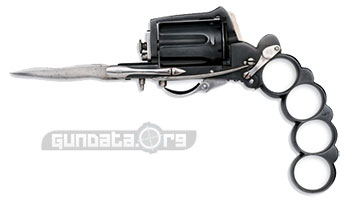 There have been some really impractical and outlandish guns created over the years, we thought it would be fun to make a list of 5 Stupid Handguns you don't need, seeing as we are always buying things we don't really need anyway. If you wan't to own one as a novelty it makes sense I guess, but for any practical purpose...nope these guns are nuts. Enjoy!
Apache Revolver / Knuckleduster
If the a swiss army knife and a revolver had a baby it still wouldn't be this ugly and outlandish. The designer of the Apache Revolver just couldn't decide. Did he want a knife? Did he mean to create brass knuckles? Was he trying to make a gun? Was he high on crack? maybe ..maybe.
Read ther rest of 5 Strange Handguns You Don't Need
Article Posted: November 25, 2013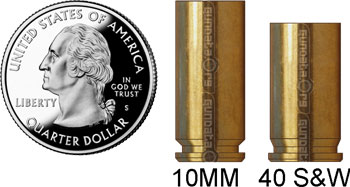 10mm vs 40 Smith & Wesson
The 10mm auto cartridge with a height of 0.992" has an average speed of 1199 fps from a 6" barrel and has an average 546 foot pounds per square inch of energy, while the 40 Smith & Wesson has a height of 0.85" travels around 1074 fps from a 6" barrel and has an average 423 foots pounds per square inch.
The numbers don't lie and neither does the history. The 40 is nothing more than a short 10mm, in fact the 10mm is it's parent case having been developed in the 80's for the FBI. Problem was however the round was to "hot" for most of the agents to handle so they settled for slightly less "kicky" 40 Smith & Wesson.
Read ther rest of 10mm vs 40 Summary and Ballistics
Article Posted: November 21, 2013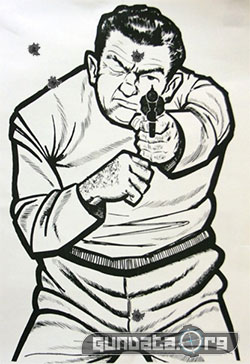 To some people it's all about caliber. They wouldn't be caught carrying anything smaller than a 45, still others claim shot placement is the Holy Grail. In this article we will look at the importance of shot placement.
Saying that shot placement is important is a huge understatement. When looking at emotionally charged topics like this however it's helpful to use analogies. So let's compare the great american sport of baseball to shooting.
In baseball there are bats of varying sizes and weights (the gun), the ball is moving at different speeds and you as the batter only have a number of pitches (3 to 6 ) to hit the ball (the target).
We all know that pulling your head out and swinging for the fences won't get you anywhere but out (dead). So what is the solution? A nice even level swing with eyes focused on the ball, and making contact. This is achieved through thousands of practice swings at real moving targets.
Read ther rest of How Important is "Shot Placement"?