Article Posted: April 1st, 2015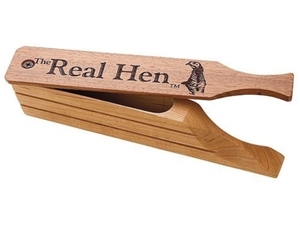 This is a good little article detailing the most common types of turkey calls and their many usages.
Box Calls
Let's begin with one of the simplest calls to master, the Box Call. This is one of the most popular calls because it can produce a variety of sounds by stroking the top edges of the box with the lid, especially with enough practice. This basic friction call is made from two pieces of wood, a coffin shaped hollow compartment and a paddle type lid. These are fastened together at one end by a screw. It is best used to immitate the "yelp" that is the base of turkey communication. It can also produce the gobble call used by mature toms.
Read the rest of Types of Turkey Calls and Usages
Article Posted: March 31, 2015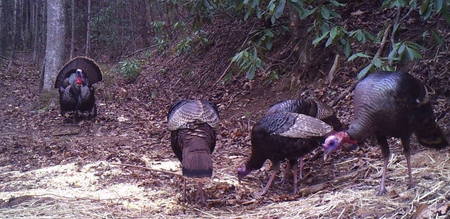 Field Cam Off Season Photo
Spring is here again, and with it comes the much anticipated turkey hunting season.
As you prepare yourself to stalk and harvest these elusive birds, here are ten things to keep in mind to help you along the way.
1. Make sure you have the right weapon and ammunition. This one sounds simple enough but a low brass #7 bird shot isn't the ideal ammo. If you can afford to buy something with a turkey on the box.
2. If you opt to use a bow instead, it should have the right tip. Broad head tips are the best. A carefully aimed shot at the neck of the bird from between 20 and 30 yards away usually gives the best results. A specilized broadhead tip like the D-Cap will d..capitate and humanely take the bird.

Read the rest of Top 10 Turkey Hunting Tips

Article Posted: March 23, 2015

Hit The Panic Button

CC Images

Panic buying..we are all guilty of it. Be it ammo or arms we all seem to increase our consumption to near gluttonous levels. Lets talk about this.

Panic buying is an entirely natural human response, especially when facing the possibility of an impending shortage or a price increase for a popular commodity. Hordes of consumers will then rush to the stores to purchase large quantities of the product. This makes perfect sense when rushing to buy the last of their favorite ice cream brand, but it can be hindering to other consumers when you are speaking about recreational arms and ammo.

Starting from 2008, there has been an increasing series of instances of guns and ammo shortages in the US. These instances may be due to changes in the political environment, an upsurge of violent crime and the threat of certain guns and ammo going out of production. The result of these shortages is panic buying.

Read the rest of Panic Buying More Harm Than Good

Article Posted: February 3, 2015

5 Bags That Could Be Used As Range Bags and Why

Your guns are an investment that should be well protected so that they remain in excellent working condition. You may attract unnecessary attention to yourself with a regular range bag, and they can be expensive. There are alternatives to choose from which offer advantages like being cheaper, more discreet and just as functional. Five of these alternatives are: -

#1 AWP Wide Mouth Tool (Cargo) Bag

Available at Lowe's, this standard tool bag comes with a bonus inner bag. Made from a water resistant material, the main bag is 16" long, 9" wide and 11" high, whereas the bonus bag is 11"long, 5"wide and 9" high. On the outside, the main bag has two flaps on one side, and 3 net pockets on the other side. The inside of the bag has a total of 12 pockets, which are ideal for storing shotgun shells, choke tubes, magazine pouches and boxes of ammo. The bonus bag is ideal for carrying pistols.

It is priced at $20.

Read the rest of 5 Alternative Range Bags for Pistols

Article Posted: January 30, 2015

This article proudly details the best .45 ACP carbines on the market. The .45 is a killer cartridge and to some a bit of a handful in a pistol. Put this man-stopper in a carbine rifle and you have a match made in heaven!

If you are looking for the ideal handgun or rifle for home defense, you are assured of excellent protection with a .45 ACP carbine. These powerful cartridges are brilliant because all you need is one carefully aimed shot, and you can easily defend yourself from any attacker or intruder. As stated before the carbines are larger and longer than their pistol counterparts. The extra barrel length actually ramps up the bullets velocity and in term it's energy. The heavier platform also makes the often punishing .45 acp more easily managed. These are not the best guns to conceal or carry around with you, but they are ideal for guarding your home and can be kept in large drawers, or violin / racket cases.

Top 6 - 45 Carbines

This list describes the best five .45 ACP carbines currently available, and these include: -

Read the rest of Best 45 ACP Carbines

Article Posted: January 22, 2015

This is our dirt cheap gun list for those of you with limited funds. This list consists of 4 handguns and 1 shotgun. Prices range from $170 to $260.

When putting aside money for your expenses, there is no need to plan, budget, scrimp and save when it comes to your protection. There is an extensive range of guns on the market, to suit any pocket. If your budget is $300, you can find inexpensive guns in the market that are ideal for both the amateur gun user and the seasoned gun expert. Amongst the most popular guns under $300 are:

Ruger LCP .380 ACP (Automatic Colt Pistol)

This is a handgun manufactured by Ruger that weighs only 9.4 ounces when it is unloaded. It is easy to conceal with its 5.16" length, 0.82" width and 2.75" barrel length. Ideal as a short range defensive pistol, it has a 380 caliber and a capacity of 6+1 rounds. Its sleek grip frame is black, high performance with glass filled nylon, and it also is solid, with a blued finish and a barrel made of alloy steel.

If this sounds like the gun for you, the price is a comfortable $260.

Read the rest of 5 Dirt Cheap Guns $170 to $260