Article Posted: August 26, 2014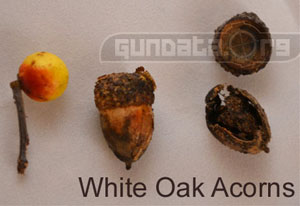 White Oak Acorns In Various Stages of Growth & Decay
If you are a deer hunter with internet access you\'ve likely spent dozens or even hundreds of hours researching mast crops for deer online. At some point in time you\'ve skipped passed corn, soybean, brasica, and focused on planting a long term solution. A solution that will outlast even perennials like ryegrass and some clovers. A food source able to provide food even when you don\'t feel like shelling out the $10+ for a bag of corn. There really is only one solution...trees.
A good tree like a White or Red Oak and even a chestnut hybrid will provide food for your deer herd for decades and possibly even centuries. Granted there are other tree options like apples, persimmons, and even pears, but today we will be focusing acorns and chestnuts.
What this article is: This article is meant to display all the common knowledge in regards to oaks,and chestnuts. We will also provide some common sense tips that may save you time and money.
Read the rest of Red Oak, White, or Chestnut for Deer Herd?
Article Posted: August 26, 2014
The Yankee Marshal is a YouTuber with upwards of 90,000 subscribers, and he is very entertaining. We wanted to share this video with you. People are always arguing about what to stock up on for a hypothetical SHTF scenario.
The Yankee Marshal on Bullets and Bartering
Read the rest of Bullets for Barter Post Collapse
Article Posted: August 25, 2014
Those crazy conspiracy nutjobs with their tinfoil hats and wacky haircuts always crack me up, but I just can't stop myself from listening. The entertainment value alone is worth your time, and advertisers know it. Just ask Alex Jones. His company pulls in millions every year in advertising revenue and product sales.
More Than Just Entertainment Value
All that being said is there really any other reason to listen and read for anything other than pure entertainment? I'd say "yes" there is. If you can somehow filter out the fake from the real there is quite a lot useful information that you can pick up and use.
Read the rest of Conspiracy Nutjobs Crazy or Not?
Article Posted: June 4, 2014
We're members of the military. We're cops. We're firefighters. We're teachers, parents and you name it.
We're hard-working, law-abiding Americans. It's our way of life, our beliefs, and our faith in freedom that built this country. And it's us who will put America back on top.
Read the rest of Good Guys!
Article Posted: May 22, 2014
We've all heard or read some pretty funny and memorable pro-gun phrases, we thought it would be fun to put together a list of the best ones we could find. Any of these would make a great bumper sticker or t-shirt. Please comment at the bottom of the article and leave your own. If it's funny we'll add it to the list!
Be sure to like and share like always and we appreciate your support.
Top Funny Pro Gun Slogans/Sayings
Keep your booger hook off the bang switch until you want to destroy something.
Gun control means using both hands.
If guns cause crime then all of mine are defective.
Read the rest of Funny Pro Gun Sayings
Article Posted: December 5, 2013
There have been some really impractical and outlandish guns created over the years, we thought it would be fun to make a list of 5 Stupid Handguns you don't need, seeing as we are always buying things we don't really need anyway. If you wan't to own one as a novelty it makes sense I guess, but for any practical purpose...nope these guns are nuts. Enjoy!
Apache Revolver / Knuckleduster
If the a swiss army knife and a revolver had a baby it still wouldn't be this ugly and outlandish. The designer of the Apache Revolver just couldn't decide. Did he want a knife? Did he mean to create brass knuckles? Was he trying to make a gun? Was he high on crack? maybe ..maybe.
Read the rest of 5 Strange Handguns You Don't Need