Article Posted: December 17, 2014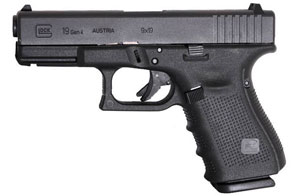 The Glock 19 is perhaps the worlds most perfect handgun. When Gaston Glock stood on that mountain top and handed down the Glock 19 to all those in need he set forth new standards of reliability, capacity, conceal-ability, performance, and weight. The Glock 19 is the pinnacle of hand held firepower embodying all things good that are handgun.
All joking aside the Glock 19 is one helluvah handgun and one of our favorite mid size pistols.
The Numbers
We spoke with a Glock Sales rep from Tennessee and while he could not confirm hard numbers because as he says "it makes people nervous", he did confirm that it was one of the most widely sold handguns ever.
Read the rest of Worlds Best Handgun the Glock 19
Article Posted: December 14, 2014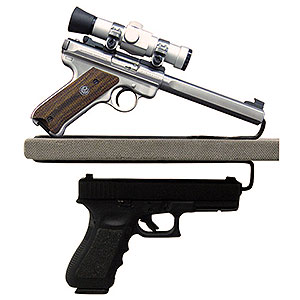 If you own more than 2 handguns then handgun hangers are a must have gun safe accessory.
So What Are They?
Handgun hangers are a convenient, simple way to store a sidearm. Not only is the concept and design simple, handgun hangers make it possible to retrieve a sidearm quickly and put it to use. Unlike a hanger that loops around a clothes rod, a handgun hanger is designed to slide over the lip of a shelf.
Little more than a flattened, elongated "5" shaped piece of steel, a handgun hanger is designed to slide into the barrel of a firearm, then the top of the 5 is slid over a shelf.
Read the rest of Handgun Hangers | Save Space
Article Posted: December 12, 2014
If you're a gun owner and you don't own a gun safe, you're taking a serious risk. Think of a gun safe as an insurance policy, it not only protects your investment in your guns, but it also protects you against liability you might incur should your firearms fall into the wrong hands. Today's gun safes combine high-technology with good old-fashioned solid steel. Whether you need a small unit for a single handgun, or a larger safe for a collection of long guns, here are some of the best gun safe picks for the new year.
Stack-On SS-22-MG-C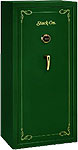 This is a large safe that touts the ability to hold up to 22 rifles and shotguns, if you get creative about putting them in there. But there's plenty of room, with four accessory shelves on the side. Heavy, drill resistant steel construction means this safe weighs in at over 250 pounds. Features a combination lock with five locking points, steel dead bolts and hidden hinges. DOJ and CA Penal Code approved.
Pros: Loots of space, hidden hinges, five locking points
Cons: Heavy 250lbs empty
Read the rest of 5 Great Gun Safes (Options)
Article Posted: July 18, 2013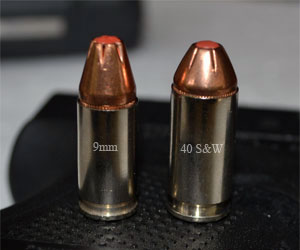 The 9mm and the 40 S&W are two of the most popular pistol cartridges carried by both law enforcement and general public alike. Most people know the primary difference is carrying capacity and hitting power, but let\'s take a closer look at the numbers as well as a few other deciding factors.
9mm History
The 9mm Luger also known as the 9mm Parabellum and even the 9x19mm NATO is the most popular and widely carried pistol cartridge in the world as of the time of this writing. As denoted by the sometimes used 9x19mm NATO term it is the primary pistol cartridge carried by NATO forces and has replaced the commonly used 45 acp most likely because of the advances in powder technologies combined with the improved carrying capacity.
Read the rest of 9mm vs 40 S&W Summary + Ballistics
Article Posted: August 26, 2014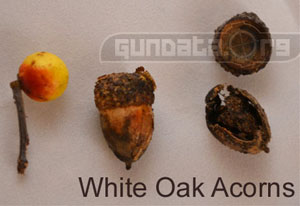 White Oak Acorns In Various Stages of Growth & Decay
If you are a deer hunter with internet access you\'ve likely spent dozens or even hundreds of hours researching mast crops for deer online. At some point in time you\'ve skipped passed corn, soybean, brasica, and focused on planting a long term solution. A solution that will outlast even perennials like ryegrass and some clovers. A food source able to provide food even when you don\'t feel like shelling out the $10+ for a bag of corn. There really is only one solution...trees.
A good tree like a White or Red Oak and even a chestnut hybrid will provide food for your deer herd for decades and possibly even centuries. Granted there are other tree options like apples, persimmons, and even pears, but today we will be focusing acorns and chestnuts.
What this article is: This article is meant to display all the common knowledge in regards to oaks,and chestnuts. We will also provide some common sense tips that may save you time and money.
Read the rest of Red Oak, White, or Chestnut for Deer Herd?
Article Posted: August 26, 2014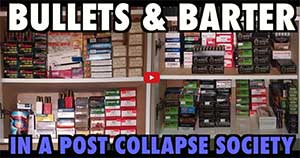 The Yankee Marshal is a YouTuber with upwards of 90,000 subscribers, and he is very entertaining. We wanted to share this video with you. People are always arguing about what to stock up on for a hypothetical SHTF scenario.
The Yankee Marshal on Bullets and Bartering
Read the rest of Bullets for Barter Post Collapse