Mossberg 500 vs. Remington 870
Article Posted: July 23, 2012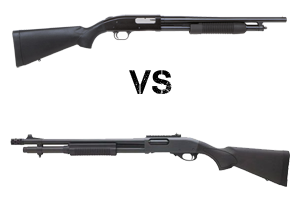 The Mossberg 500 series and Remington 870 are no strangers to shotgun enthusiasts. Both models have been around for decades, and have undergone a variety of redesigns for different purposes. For practical purposes, these two shotgun series have a long standing history with firearms experts that have allowed them to stay consistent models of choice for American buyers. This article will give an overview of the specifications, model designs, and multi-purpose options these firearms have been used for since their incorporation.
Mossberg 500 Series
Designed: 1961 by O.F. Mossberg and Sons
Variations: Field, Home Defense (Home Security 410), Law Enforcement (590A1), and Special Purpose (500 and 590) models.
Weight: 6 to 7.5 pounds and Youth Models Start at 5 pounds.
Length: 36.5 to 48.5 inches with barrels ranging from 18 to 28 inches
Shell Cartridge: 12-20 and .410

Originally designed with the intent to be easily cleaned after being used in dirty conditions, the 500 series has served as a multi-purpose shotgun series for both civilian and government use in its application. Some models come with a factory ported recoil reduction system that allows for a faster recovery time to shoot a second time. The 500 series features a multi-purpose interchangeable barrel that allows them to be applied in a variety of uses ranging from hunting, home defense, in addition to urban tactical combat by the U.S. Army. The Slugster Big Game model barrels allow for mounting sights to hunt medium sized game such as deer. The models include a variety of options with magazine sizes ranging from 5 to 7 rounds depending on the type and design.
In addition to the 500 series model designs, Mossberg also created a 500 Bantam, 505 Youth, 510 Mini and 500 Super Bantam model for younger adults. These allow first time shooters, adolescents, and people with smaller frame bodies to use these shotguns as well. The all-purpose 505 youth weights 5.25 pounds and has a 37.5 inch length with a 20 inch barrel.
Remington Model 870
Designed: 1951 by L.Ray Crittendon, Phillip Haskell, Ellis Hailston, G.E. Pinckney
Variations: Express, Express Super Magnum, Marine, Modular Combat Shotgun (MCS), and Police models.
Weight: 6 to 8 Pounds and Youth Models start at 6 Pounds
Length: 37.25 to 50.5 inches with barrels ranging from 18 to 30 inches
Shell Cartridge: 12-16-20-28 and .410

Designed as an adaptation of the Remington 11-48 autoloader, the Remington 870 has been designed to serve as a firearm for a variety of purposes that range from Military uses to hunting. The pump action shotgun has a feed system that allows for 3 to 8 round magazines. The Wingmaster series is used for skeet, trap, and hunting, while the MCS series has interchangeable barrels for multi-purpose use in tactical combat for the military and police. Some models come with the Super Cell Recoil Pad design. Heralded as a decade long project by the Remington Research and Development department, this pad allows for up to 54% reduced recoil compared to other types of shotguns in the same class.
The 870 series comes in over two dozen model variations ranging from waterfowl, tactical, and the Turkey models. Designs such as the SPS Sureshot allow for mountable scope and pistol grip stock permitting for a better aim during medium sized game hunting. Other designs such as the 870 Express allow for multi-purpose barrel changes, and are designed for people with smaller frames or youths to use for hunting or clay sport purposes.
Overview
Each of these firearms manufacturers help to maintain a current shotgun model that adapts to modern uses in their applications. Both series have been used for hunting, tactical, and home defense purposes for decades. Mossberg and Remington are well-known manufacturers that allows for old and new shotgun enthusiasts to pick from a variety of options that best suits an individuals needs.
Contributing Author: Jason Brumett
You may also like these...
Related Articles
Please like, share, favorite, bookmark, and comment. Thank You.