Marine Modular Tactical Vest + Body Armor
Article Posted: January 6, 2015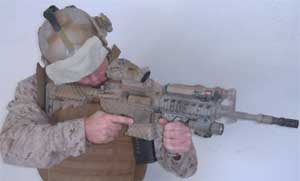 Tactical Vest Assembly Guide
The following content is provided by the USMC (US Marine Core), and details proper assembly and usage of modular tactical vest that includes integrations of body armor. It goes over inspection, assembly, do's and don'ts, and tips on how to make sure you are setup correctly. We have rewritten the guide to assist non-military civilians. You should be able to find these at military surplus stores, there are hundreds for sale on eBay.
What is Modular?
Modular simply means it comes it comes in modules or sections. The primary chest rig will allow you to add and subtract things like magazine pouches, cleaning kits, radios, and even something like a small first aid or trauma kit.
The Marines (MTV) or modular tactical vest's purpose is to provide maximum protection and weight distribution of armor plates, while at the same time allowing it's personnel better range of motion, and the ability to quickly customize the "chest rig" area.
Modular Component Overview
Front Carrier with Soft Armor Insert
Rear Carrier with Soft Armor Insert and Spine Armor Insert
Side ESAPI Pouches with Soft Armor Inserts
Groin Armor Carrier with Soft Armor Insert
Collar/Yoke Assembly
Throat Armor Assembly
Right & Left Cummerbund Assemblies
Two Cummerbund Stays
Bungee Cord, One Wrap and Barrel Lock
Rifle Bolster
When Choosing Your MTV be sure to
Inspect Front and Rear Carrier for rips and tears. Ensure plate pockets are not sewn down.
Inspect all soft armor components for tears or stains associated with exposure to petroleum products.
Inspect Cummerbund assemblies and ensure that the white Dacron loops are not frayed or the side plate pockets are not sewn shut.
Inspect Collar and Yoke assemblies for tears
Assemble In This Order
I. Front/Rear Carrier Assembly
II. Throat and Collar Assembly
III. Cummerbund Assembly
IV. Fitting - Make any needed asjustments
V. Final Assembly
I. Front and Rear Carrier Assembly.
For Original PDF with more details click here.
To order a USMC Pack Instruction Card click here.
If you are looking to relive your glory days, or just have some fun running and gunning a surplus modular tactival vest might be worth purchasing.
Related Articles
Please like, share, favorite, bookmark, and comment. Thank You.